Recalled national coach of Guyana Jamaal Shabazz yesterday referred to former Caribbean Football Union (CFU) president and FIFA vice president Austin 'Jack' Warner's contribution to football as yeoman but said since he was no longer in football now was not the time for emerging leaders to cower.
Shabazz, speaking at a press conference yesterday at the Guyana Football Federation (GFF) boardroom, said he believes that this was the time for the new leaders to elevate the level of the sport and its administration where it can be reckoned with on a global scale.
The controversial Warner was forced to quit FIFA after it was alleged that he orchestrated a special meeting in Trinidad on May 10-11 for delegates to meet FIFA presidential candidate Mohammed bin Hammam, who allegedly handed out bribes to the tune of US $40,000 each to the 25 CFU countries.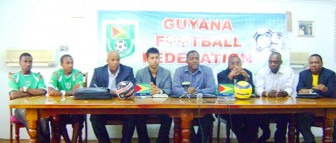 Warner was eventually suspended by FIFA, world governing body for football, before he resigned his positions as VP of FIFA and president of CONCACAF and CFU. Qatari Bin Hammam, who was also the president of Asian Football Federation, was banned for life, a decision he plans to appeal.
"Warner has done yeoman service to the game but the time has come for new administrators and leaders to emerge. This is not a time to be faint hearted and be coward and scared into a corner especially since our leaders can make the sport a force to be reckoned with on the world stage," Shabazz said a day before the Golden Jaguars play India in an international friendly match at the Guyana National Stadium.
The game starts at 19:00 hours and, according to Shabazz, this game will work as a fact-finding mission to establish just how far the team is and where it needs to be before Guyana plays Barbados on September 2 in the FIFA World Cup Qualifiers.
Shabazz said that the India team, which is ranked 153 in the world, will be a formidable opponent tonight therefore the local team should get down to business.
He said that he was not concerned with FIFA ranking but rather he will be looking to see how the younger, more inexperienced players handle themselves in tonight's match. He, however, expects the Golden Jaguars to "work hard and show good enthusiasm and a desire to give of their best."
Senior player of the team, Kayode Mc Kinnon, said that it would be important to see how the young players handle themselves in the faster paced international game. He noted that the players have the skills and talent but said at the international level, the game is approached on a more mental platform and therefore it will be interesting to see the "speed of thought" of the players who are less experienced.
Manager of the team, Mark Xavier, said that it was good to have Shabazz back at the helm adding that he was confident that the coach will "implement programmes for exponential growth of the Jaguars."
He also repeated that this game against India will be a gauge to see how much work needs to be done with the team.
Meanwhile, at 19:00 hours a Fastball match will be played between Guyana Telephone & Telegraph's inaugural Fastball champion Pele against Linden's Bakewell Topp XX.
Around the Web