For the majority of last night's international friendly game, FIFA's world rankings were inconsequential between Guyana and India at the Guyana National Stadium.
That is, until Walter Moore scored the Golden Jaguars' second goal in the 62nd minute. Moore weaved his way through four Indian defenders to beat the Indian goalie Subrata Pal as the Guyanese, ranked 116 by FIFA, went 2-1 up on the Indians, who came in with a ranking of 153.
The score line would remain that way until the final whistle. Vurlon Mills opened Guyana's account with a well-directed header in the 19th minute while India's Steven Dias responded with a curving free-kick that beat the outstretched hands of Ronson Williams in the 36th minute.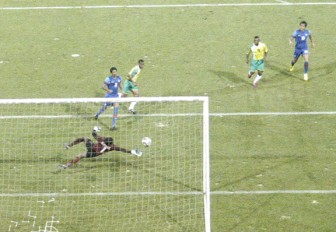 By midway of the first half when the sky opened, both teams found it hard to adapt to each other's style of play. The Guyanese were evidently faster and stronger while the Indians' strength was their accuracy in long passes.
These differing styles of play opened up opportunities for both sides to capitalise but good saves by the goalies, misdirected shots or good defensive work thwarted the chance of having a more flourishing score-line. In the context of the game both teams gave very good accounts of themselves despite the pre-game notion that the Guyanese would have totally dominated the Indians, who are more known for their exploits on the cricket field and golf course.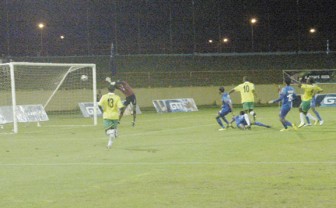 The Indians displayed the same level of skill as the Guyanese, albeit with more ball control. However, the Guyanese enjoyed a larger portion of the equation when it came to ball possession, all to the liking of the few hundreds of fans that braved the periodic inclement weather.
On many occasions the Indian goalkeeper had to make some critical saves or watch helplessly as the ball sailed past his open goal. This was mostly due to nimble and fancy footwork of midfielder Kayode Mc Kinnon, who set up most of the chances that went a-begging.
Around the Web