With the West Indies selectors continuing its musical chairs style selection policy with the announcement of the squad to play two  Twenty20s in England next month, the only potentially fruitful decision was to award local boy Derwin Christian his first international call-up.
Speaking to Stabroek Sport via telephone Christian declared, "It's a great joy to play for the West Indies, I will be stepping over a big boundary and I hope to live up to the standard that has been set by past great West Indian `keepers and Guyanese that kept for the regional side. I must thank the Father also, since without him I wouldn't be here and this selection would not be possible."
When asked about his potential chances of upstaging the other regular regional `keepers, he replied modestly, "I don't want to talk about such chances just yet, I just want to take this adventure one step at a time and hopefully do Guyana and West Indies proud along the way."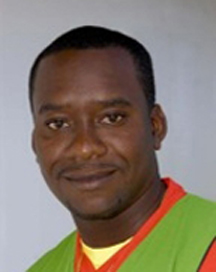 In explaining why Christian got the nod, Chairman of selectors Clyde Butts said yesterday, "Christian impressed the selectors during the last Caribbean Twenty20 when he batted with a cool head and won games for Guyana. He is a pugnacious batsman who we believe can be a match winner down the order."
Being a technocrat, Christian technically only won one game for Guyana, the Caribbean's last Twenty20 in January, when he scored that belligerent 13-ball 40,  versus the Combined Campuses and Colleges.
And although that wasn't the greatest bowling attack by any stretch of the imagination, he displayed the sort of natural hitting ability in that innings which certainly does suggest (as Butts alluded) that he could be a match-winner down the order in the T20 set-up, if he can translate that batting onto the international stage.
His case is further strengthened by the fact that other wicket-keepers in the region have been incapable of cementing a place in the T20 set-up in recent years.
Current test option Carlton Baugh, whose batting style isn't suited for T20s and the now axed Denesh Ramdin had the same T20 batting deficiency while Andre Fletcher, who also is a talented striker of the ball, hasn't made the most of the chances he has had in recent times.
It's also worth noting that Christian will become the first Guyanese to wear the gloves for the regional side in any format (Tests, ODIs, T20s) since December 17th 1983, when Milton Pydanna kept in the fifth ODI of a Clive Lloyd-led tour to India.
Pydanna had a short career of just three one-day games, mainly due to the immovable presence of the legendary Jeffery Dujon as West Indies `keeper at the time. Christian has no such obstacle in front of him and therefore  the Demerara Cricket Club (DCC) stumper has an excellent chance of making at least the Windies T20 keeping spot his own.
Around the Web