President of Guyana Boxing Board of Control (GBBC) Peter Abdool yesterday said that the 17th edition of the Pro Am Friday night fights card
will be highly entertaining and urged the public to come out in their numbers and support the event.
Abdool made the call at yesterday's press conference held at the studios of the National Communications Network (NCN) to usher in tomorrow' night's event.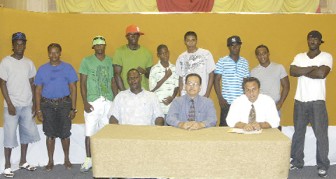 According to Abdool, the monthly card has brought improvements, experience and exposure to local boxers.
He added that the GBBC was looking to bring
foreign fighters, namely from Mexico and Jamaica, to compete on upcoming cards.
Tomorrow night's card will be held at the Cliff Anderson Sports Hall and will showcase four amateur and four professional fights.
Present at yesterday's briefing were  ALBA Games bronze medalist Imran 'Magic ' Khan, Ian Bancroft, young Akeem Daniels, Cecil Smith, Revlon Lake,  Ray Sandiford, Pauline London, Cleveland Fraser and the card headliner Guyana's Light heavyweight champion  Kwesi 'Lightning Struck' Jones .
Tournament coordinator of the Guyana Amateur Boxing Association (GABA), Terrence Poole, said that the Friday night cards were a good initiative.
Poole added that it will help in developing and improving the amateurs as they prepare for the road to the 2012 London Olympic Games.
The amateur segment of the card will see Harpy Eagles Imran 'Magic 'Khan moving up to bantamweight to match gloves with Pocket Rocket's Richard Williamson.
Khan said at the briefing that he was not over confident and was not looking ahead but was solely focused on winning his fight tomorrow night.
Akeem Daniels, also of Harpy Eagles Gym, will be taking on Ricola Warrior's Romel Rowley in an 85 to 89 pound encounter.
Lightweight Marlon Darrel, also of Ricola Warriors, will come up against crowd-pleaser Nankumar Singh of the Republican Gym while Guyana Defence Force (GDF) Eon Bancroft and Pocket Rocket's Kelsie George will engage in a middleweight bout.
On the professional segment of the card,  junior welterweights Revlon Lake and Cecil Smith will look to outbox each other.
Both pugilists predicted victories yesterday with Smith stating that he was ready and will teach Lake a lesson while Lake, in reply, stated that he will let his fists do the talking in the ring.
In a junior lightweight contest, Gardel Roberts will match gloves with Ray Sandiford.
Sandiford said yesterday he was confident of a victory and was looking forward to bigger accomplishments down the road with his sights set on becoming the CABOFE champion at both the junior lightweight and lightweight divisions.
On the distaff side, Veronica Blackman and Pauline London will compete in a catchweight fight.
London will be hoping to avenge her previous two losses to Blackman and yesterday boasted that she was much stronger than the first two times she faced Blackman.
She also predicted a victory.
In the main event, national light heavyweight champion Jones, will look to win convincingly against Barbados-based Cleveland Fraser.
Both fighters will be highly motivated as the winner of this fight will be in line for a shot at the CABOFE light heavyweight title.
Also present at the press briefing was GBBC member and boxing commentator Howard Cox.
The amateur bouts will be three round encounters while the professional bouts will be four rounders except for the main event which will be a 12-round affair.
The sponsors for the event include the Ministry of Sport, Digicel, Giftland Office Max, Ansa McAl, NCN, Banks DIH Ltd, Guyoil and Courts. The event is scheduled to begin at 20 00 hrs.
Around the Web