400 metres specialist and US-based Guyanese Aliann Pompey will look to make her mark on the 13th edition of the Outdoor World Championships in Daegu, South Korea beginning tomorrow.
The World Championships which plays second fiddle to the Olympic Games is the second largest athletic stage that any athlete could compete on.
In its 12 years of existence it has seen some of the world's best achieve greater heights in their careers with the most recent being the fastest man in the world, Jamaica's Usain Bolt.
However, Pompey who will be competing in her sixth World Championships since 2001 will look for a better finish than in Berlin, Germany when she finished tenth overall with a personal best of 50.71s in the semifinal.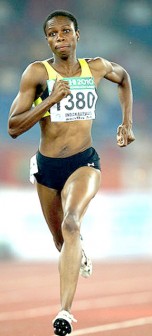 Pompey who created history when she was the only Guyanese to make a World Championship (WC) final at the 2010 Indoor WC in Doha, Qatar will have a reasonable chance of making history again for her homeland if she can make the final of the outdoor championships or bring home a medal.
Speaking with Stabroek Sport via telephone Pompey explained her feeling going into this year's WC.
"Physically I feel ok, not overly confident…a bit under-raced so I'm a little anxious about that. Mentally I'm just going to try to execute my race plan.
"It's hard for me to gauge where I am now in terms of fitness as I've only run a handful of races and that honestly makes me a little nervous but I haven't counted myself out," Pompey stated.
Although her preparations were hampered due to her being sick, the 400 metres specialist still believes that the work she has put in for the meet is up to scratch for the prestigious event.
"Well I got really sick about a week and a half ago and I think that set me back a tiny bit…hopefully not too much but I think my preparation work was sufficient, it's just a matter of how well I rebound physically," she said.
When asked by Stabroek Sport how she sees herself against her competition in the 400 metres Pompey related, "I've tried to focus on myself, what I was doing was trying to get and remain healthy and injury free. This year unless  I was lined up against someone at the starting line I didn't think about them.
"I didn't really follow the results too much either this year except those by other Guyanese athletes because I knew quite a few were doing well and I wanted to keep up, so it didn't really matter what the other people were doing because it didn't help or hurt my progress so  I just focused on myself," Pompey stated.
The 33-year-old who won the 2002 Sportswoman of the Year national award hinted to Stabroek Sport that this event followed by the Olympics might possibly willbe the last of Aliann Pompey on the track.
"At this point I've become reflective after each season and at some point it's not going to make any sense to continue. I've committed to training and being ready for London and after that I'm most likely going to move on," she revealed.
With this being her last possible WC, the Guyanese sprinter  stated  that she feels no added pressure on her shoulders, since it's not her first time being the only Guyanese at a WC.
So what does she expect of herself?
"I honestly don't know, I just expect to go out there and try my best and whatever happens, happens. As long as I give my 100% I don't think nothing else matters," she concluded.
Meanwhile Pompey who will step into her preliminary rounds tomorrow supports the constant blood testing programme that will be instituted by the International Association of Athletic Federations (IAAF) at the 2011 event.
"I support anything that levels the playing field but in a case like this you won't know if it's effective until it's all over but I think the notion behind it is fair and I think they know what they are doing," Pompey said.
Meanwhile Pompey who has a season best of 51.66s will feature in heat two where she will come up against the likes of American Jessica Beard and Russian Anastasiya Kapachinskaya who have season best times of 50.79s and 49.35s when the preliminary round gets underway tomorrow at the Daegu Stadium.
Around the Web