(Barbados Nation) Past and present local and international drivers will share the spotlight at the Barbados Auto Racing League (BARL) Williams Digicel Int. Race Meet at Bushy Park on Sunday.
It will also be the 40th anniversary of the well-known racing facility and, as if to further sweeten the deal, former British saloon, single-seater and sports car legend Gordon Spice will fly in to help mark the occasion.
Spice was among the first European drivers to help place the Caribbean on the world motorsport map in the 1970s, with other racers of that era such as Mike Crabtree, Derek McMahon, Alec Poole, Allan Staniforth, Gabriel de Freitas  and Barrie "Whizzo" Williams.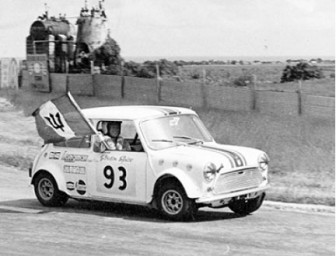 And in another link with the past, members of the Barbados Rally Club (BRC) have been invited to contest the BRC Two-wheel Drive Challenge during the day's proceedings which will pit present-day racetrack regulars against special stage stars. Three six-lap races will be decided.
Among the entries are two-wheel drive stars Neil Armstrong – who finished sixth overall and highest-placed two-wheel-drive in Sol Rally Barbados this year; Josh Read, ninth-placed overall  finisher of that rally; and Bushy Park four-wheel-drive lap record-holder Roger "His Hotness" Mayers, who will be in a Toyota Starlet.
Also among those taking part in the BRC challenge are the BMWs of Brian Gill and Justin Campbell, and the Peugeot 306 Maxi of former CMRC champion driver Stuart Maloney.
Bushy Park's 40th anniversary celebrations will also include a lunchtime parade and driver interviews, a photographic display, posters and other memorabilia from the 1970s and 90s.
Much of the memorabilia has been provided courtesy of former competitor, photographer and collector Geoff Goddard and Wendy Williams, who was the competition secretary of the first-ever Bushy Park race meeting in November 1971.
"We are so pleased that Gordon will be here, as his exploits in this part of the world, including race wins at Bushy Park, are the stuff of legends," said BARL chairman Adrian Mayers.
"It was guys like him that helped promote the island's image way back then. Apart from cricket, which was a national team game, this really was the start of sports tourism.
"The Barbados Rally Club (BRC) played an integral part in the early days of Bushy Park, which is why we wanted to include its members in celebrating this milestone," he added.
Around the Web