DAEGU, South Korea, (Reuters) – Sanya Richards-Ross's  coach's description of the U.S. 400 metres world champion might  not sit well with airport security officials.  
 
"(He) kept saying I was a ticking time bomb," the  Jamaican-born Richards-Ross told a media conference yesterday  ahead of the Daegu world championships. "He didn't know when I  was going to go off, but I was going to go off some time."   
'The bomb' finally exploded at London's Diamond League  meeting in early August when, after a so-so season,  Richards-Ross ran an eye-catching 49.66 seconds, the year's  second-fastest time.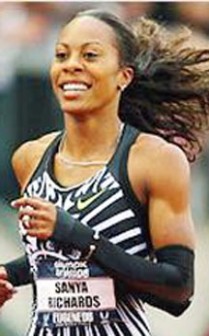 "I never lost faith," said the American whose husband Aaron  is a cornerback with the New York Giants of the National  Football League.  
Her turnaround came after a poor race in Birmingham, England  and she and coach Clyde Hart, who coached Michael Johnson to the  400 metres world record and both Johnson and Jeremy Wariner to  Olympic and world championships, returned to Texas to tweak  several parts of her race.  
"He shook me up a bit," Richards-Ross said of the workouts,  which included concentrating on the third 100, which "wasn't  going so well".  
"We just worked on how to make that move there.   
"I have an amazing coach and I knew he would figure it out  sooner or later. I am really excited to be peaking at the right  time."   
With team mate Allyson Felix going for the 200-400 metres  double, fellow American Carmelita Jeter running the 100 and 200  and Jamaican Veronica Campbell-Brown also challenging for the  sprint double, the championships should be eye-catching.   
"One of the most exciting women's sprint championships we  have seen in a long time," Richards-Ross predicted.
Around the Web