JOHANNESBURG, (Reuters) – India coach Duncan Fletcher  faces a dilemma after player power and a lack of discipline  helped account for India's 4-0 series loss to England, according  to former South Africa captain Kepler Wessels.   
Wessels, a well travelled television commentator, told  Reuters yesterday that former coach Gary Kirsten allowed the  senior players to run the team.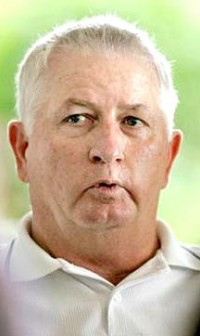 "The general consensus is that Fletcher was appointed as  long as he continued with the same coaching style as Gary  Kirsten. The senior players wanted that, they wanted Gary to  stay on, but when that didn't happen, they wanted a  like-for-like replacement," he said.   
"Gary allowed the senior players and superstars to run the  show and do their own thing. But then the team arrived in  England totally unprepared, there was no dedicated approach and  no hunger there. India need a much firmer hand, superstars or  not," Wessels told Reuters yesterday.   
Wessels said Fletcher was now "between a rock and a hard  place".   
"If he agreed to go with the Kirsten approach, he can't  change now. The situation is crying out for more control and a  firm hand, but if he does flex his muscles, the players won't  like it and it is unclear whether the board will sanction a  different approach," he said.   
The former opening batsman, who was renowned for his gritty,  disciplined approach during his 16 tests for South Africa and 24  for Australia, said India could not compete with an England team  run by team director Andy Flower.   
"Flower takes a hard line, he's meticulous on fitness, there  are no short cuts and he sets very high standards. The players  and management can either buy into it or not be part of the  team. He runs a very tight ship and the players have bought into  it," he said.
  
"The England players are technically very good at the moment  in all three disciplines of the game. Due to their superior  fitness and technical expertise, they have become used to  winning, which has made them mentally strong and ruthless in  their pursuit of excellence."
Around the Web