The Pro Am Friday Night Fights programme returns to the Cliff Anderson Sports Hall tonight with several of Guyana's top amateur pugilists on show.
The 17th edition of the monthly card is expected to be highly competitive and entertaining as all of the boxers predicted convincing victories on their behalf during the weigh-in held at the National Gymnasium yesterday.  The amateur segment of the card includes ALBA Games bronze medalist Imran 'Magic' Khan vs Richard Williamson of Pocket Rocket gym, Clairmont Gibson of GDF's gym vs  Marvin Darrel of Ricola Warriors, GDF's Eon Bancroft vs Kelsie George of Pocket Rocket and youngsters Akeem Daniels  vs Romel Rowley of Harpy Eagles and Ricola's gym respectively.
'Magic' who will be moving up to bantamweight spoke about his training and  game plan.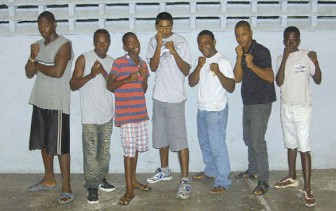 "I'm not overconfident but I'm fit and focused and my coach has conditioned me in the shape of my life, the exposure and success I gained at the ALBA Games has improved my thinking, technique and everything. I will overcome Williamson."
Khan also stated that he plans to jab more as he is the taller of the two and plans to use his reach to his advantage.
Williamson, the nephew of  former world title challenger Howard 'Battersea  Bomber 'Eastman, noted that he has trained hard for the fight, sometimes twice daily, and will go in the ring to do his best and so he expects a victory. He further stated that he plans to fight on the inside and keep his opponent from using his reach advantage.
In the middleweight encounter both George and Bancroft boasted that they will both let their fists do the talking in the ring and promised to pressure their opponent throughout the fight. Paulette Nurse, coach of Marlon Darrel, remarked that her fighter is fully prepared to show the public what he has to offer as he is fully conditioned and will look to outwork Gibson. She added that Darrel will be fighting in a very aggressive manner and will eventually wear the GDF product down.
Gibson, however, maintained that despite being a late replacement for crowd pleaser Nankumar Singh, who fell ill, he is fit and was training all year long. He also stated that he plans to use this fight as pathway towards becoming a household name and he will pressure Darrel from the first round and if the knockout comes he will be going for it.
This junior welterweight bout promises to be a scorcher and fans should expect a lot of punches being thrown.
The two youngsters, Daniels and Rowley, will match gloves for the third time with victories splitting between them, but both promised to be the victor and break the stalemate.
Meanwhile the event will also include four professional bouts with Guyana's light heavyweight champ Kwesi Jones headlining the event. The public is urged to come out and support the card.
Bell time is 20:00 hrs.
Around the Web