It was like a stroll in the park, or a free way on the fairways of Lusignan Golf course as former national champion Mike Mangal made light work of his opponents to capture the 15-Year-Old Medal Play golf tournament sponsored by El Dorado Saturday at the Lusignan Golf Course.
Mangal bagged the lion's share of the prizes in the tournament that saw players in a sombre mood following the death of Melvyn "Mel" Sankies, former President of Lusignan Golf Club who died on Thursday.
The players observed a minute's silence before the start of play as a mark of respect for Sankies who was an avid golfer.
When the players teed off, Mangal took centre stage and shot a net 67 to claim victory.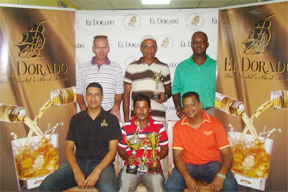 He also won the Best Gross of 76 and was Nearest to the Pin in a dominant performance.
Muntaz Haniff placed second with a net 68 while Dr. Ram Singh was third with a net 70.
Secretary of the Lusignan Golf Club, William Walker, thanked the company for sponsoring the tournament and stated that the Guyanese should be proud of the World's best rum, El Dorado 15-Year-Old.
He said the LGC looked forward to a long partnership with El Dorado.
Demerara Distillers Ltd. (DDL) Sales Manager, Mark Chinapen, congratulated Mangal on his victory.
"I would like to congratulate Mike (Mangal) on his victory. We are happy to be on board with the sponsorship of this tournament," he added.
According to Chinapen El Dorado 15-Year-Old was voted the World's best rum for the eighth successive year in news recently received by his company.
El Dorado Brand Manager, Jeranzee Marques, was also in attendance at the  presentation ceremony.
Around the Web