KINGSTOWN, St. Vincent, CMC – A record spell of bowling from Anisa Mohammed set up West Indies Women for a convincing, eight-wicket victory over Pakistan Women in the low-scoring first One-day International yesterday.
Off-spin bowler Mohammed collected five wickets for five runs from 10 overs – the best figures by a West Indian bowler in a Women's ODI – as Pakistan were dismissed for a modest 83 in 40.5 overs, after they were sent in to bat at the Arnos Vale Multiplex.
Deandra Dottin hit 36 not out and Stafanie Taylor gathered 24 not out, as West Indies Women successfully chased 83, grabbing victory with 183 balls remaining.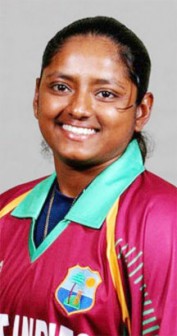 The result meant that West Indies took a 1-0 lead in the four match series, which continues on Tuesday at the same venue. Tremayne Smartt set the Pakistanis back early, when she had Javeria Khan caught behind off the second ball of the match for two.
But West Indies were put on the defensive, when Nain Abidi joined Mariam Hasan, adding 30 for the second wicket before Mohammed spun into action.
The West Indies Women vice captain had Hasan caught behind off her very first delivery in the 14th over, and trapped Abidi for the top score of 26, leaving the visitors 47 for three.
This triggered a collapse, and Pakistan were soon gasping for survival on 57 for eight, after Mohammed removed Marima Iqbal, Nida Dar, and Batool Fatima – all for ducks – in quick succession.
Mohammed became the first West Indies Women's bowler to take five in a Women's ODI, since Cherry-Ann Singh's five for 36 against Ireland at Dorking 18 years ago and a month to the day.
In between, Bismah Maroo was run out for 10, failing to beat Juliana Nero's direct hit at the bowler's end from mid-off, and Masooma Junaid was also run out, failing to beat Smartt's direct hit from deep mid-wicket at the same end going for a second run.
The home team faced token resistance from the Pakistani tail, led by their captain Sana Mir with 18 before Shanel Daley bowled her to bring the innings to a close.
West Indies stumbled, when Nero was caught behind in the fourth over of the chase, as the host reached 16 for one at the scheduled lunch interval.
After lunch, the hosts suffered another setback, when Mir bowled Daley for nine, but Dottin and Taylor added 55 – unbroken – for the third wicket, taking West Indies Women safely over the line.
The third and fourth ODIs this coming Thursday and Saturday will also be contested at Arnos Vale.
The two teams also played four Twenty20 Internationals – the first two on September 6 and 7 at Progress Park in Grenada, and the last two on September 10 and 11 under the lights at the Guyana National Stadium.
SCOREBOARD
PAKISTAN WOMEN (maximum 50 overs)
Javeria Khan c wkpr *Aguilleira b Smartt                               2
Mariam Hasan c wkpr *Aguilleira b Mohammed                  8
Nain Abidi lbw b Mohammed                                                     26
Bismah Maroof run out                                                                 10
*Sana Mir b Daley                                                                            18
Marima Iqbal c Nero b Mohammed                                           0
Nida Dar c Nero b Mohammed                                                     0
+Batool Fatima b Mohammed                                                      0
Masooma Junaid run out                                                                0
Qanita Jalil b Campbelle                                                                  5
Sadia Yousuf not out                                                                         1
Extras (lb1, w11)                                                                             12
TOTAL (all out, 40.5 overs)                                                     82
Fall of wickets: 1-2, 2-32, 3-47, 4-52, 5-55, 6-55, 7-57, 8-57, 9-74
Bowling: Smartt 7-1-14-1, Selman 4-1-11-0, Dottin 2-0-7-0, Mohammed 10-6-5-5, Taylor 6-1-18-0, Campbelle 4-1-5-1, Daley 7.5-0-21-1
WEST INDIES WOMEN (target: 83 off 50 overs)
S. Taylor not out                                                                              24
J. Nero c wkpr Batool Fatima b Masooma Junaid               7
S. Daley b Sadia Yousuf                                                                  9
D. Dottin not out                                                                             36
Extras (lb1, w5, nb1)                                                                      7
TOTAL (2 wkts, 19.3 overs)                                                    83    
*+M. Aguilleira, S. King, K. Knight, S. Campbelle, A. Mohammed, S. Selman, T. Smartt did not bat
Fall of wickets: 1-10, 2-28
Bowling: Qanita Jalil 4-1-13-0, Masooma Junaid 3-0-9-1, Sadia Yousuf 6-0-34-1, *Sana Mir 3.3-0-13-0, Bismah Maroof 1-0-7-0, Nida Dar 2-0-6-0
Result: West Indies Women won by eight wickets
Series: West Indies Women lead four-match series 1-0
Player-of-the-Match: A. Mohammed (West Indies Women)
Toss: West Indies Women
Umpires: L. Abraham, G. Greaves
Around the Web