SPA-FRANCORCHAMPS, Belgium, (Reuters) – World  champion Sebastian Vettel won the Belgian Grand Prix and   stretched his Formula One lead to 92 points in a Red Bull  one-two finish with Australian Mark Webber yesterday.
The victory was the 24-year-old German's seventh in 12 races  so far this year, with seven rounds remaining worth a maximum  175 points.
Britain's Jenson Button finished third for McLaren after  starting 13th.
"Thanks you boys, what a race," Vettel whooped over the team  radio after his team's second one-two of the season and his  first win since Valencia in June.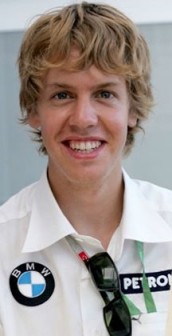 Vettel, who now has 259 points to Webber's 167 after his  17th career win, led from pole position with serious doubts  about the durability of his car's tyres after both Red Bulls  suffered heavy degradation in qualifying.
In the end the fears proved groundless, or at least  manageable, despite Vettel's compatriot Nico Rosberg storming  into the lead at the start in his Mercedes before Vettel  overtook on the third lap.
"It was more management than usual but the car worked  brilliantly," said Vettel. "I enjoyed every lap today…if the  car does what you want it to do, this place is really fun.
"We had reason to be confident (about the tyres). Otherwise  the alternative would have been to change the set-up and start  from the pit lane."
Ferrari's Fernando Alonso, who finished fourth, looked a  real threat before fading.
McLaren's Lewis Hamilton, last year's winner at Spa, crashed  heavily at Les Combes on the 13th of 44 laps while challenging  for fourth place.
Hamilton was unhurt but the incident brought out the safety  car while debris was cleared.
Seven times champion Michael Schumacher, the sport's most  successful racer, celebrated the 20th anniversary of his Formula  One debut at Spa with a fighting fifth place after starting in  last position.
Rosberg was sixth, ahead of compatriot Adrian Sutil for  Force India and Ferrari's Brazilian Felipe Massa in eighth.
Renault's Russian Vitaly Petrov was ninth and Venezuelan  Pastor Maldonado collected his first point in Formula One for  Williams in 10th.
Webber made a shocking start from third place, wrestling  with the anti-stall device as others roared past, but escaped  the early mayhem triggered by Brazilian Bruno Senna on his  Renault debut.
"It was probably one of our best results ever as a team,"  said the Australian.
Senna, the reserve called up as a replacement for dropped  German Nick Heidfeld, had qualified an impressive seventh but  picked up a drive-through penalty for causing a collision and  ended up 13th.
Around the Web