NEW YORK, (Reuters) – Serena Williams will make her  long-awaited return to the Arthur Ashe center court yesterday  when she opens her latest U.S. Open campaign against Bojana  Jovanovski.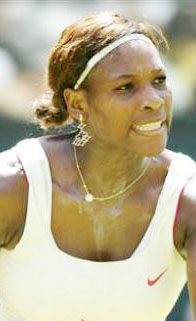 The American has already won the U.S. Open on three  occasions but her last appearance at Flushing Meadows, two years  ago, ended shamefully when she unleashed a foul-mouthed attack  on a line judge.
She was docked a point that cost her the match against  eventual champion Kim Clijsters, and handed a hefty fine.
Williams missed the tournament last year because of a foot  injury and has been out for most of this season. She made a  belated return and won lead-up events in California and Toronto  to wrap up the U.S. Open series and enhance her reputation as  one of the favourites to win the title.
"I've always wanted to win the U.S. Open Series, so I can  check that off the list," said Williams, who was scheduled to  play the final night match on center court.
"I just have a couple more checks and then it will be good."
Rafa Nadal, the defending men's champion, will also play at  night, against Andrey Golubev of Kazakhstan while both world  number ones play during the day session.
Caroline Wozniacki of Denmark, a recent winner in New Haven,  faces Nuria Llagostera Vives of Spain while Serbia's Novak  Djokovic tackles Irishman Conor Niland.
Djokovic quit last week's Masters final in Cincinnati  because of a shoulder problem but said the injury had healed.
"My shoulder is feeling fine. I had a little trouble in  Cincinnati throughout the whole week, and I carried that up to  the final," he said.
"It was unfortunate to finish this way the match against  Murray but I think it was the right decision because I couldn't  risk it anymore.
"I decided to take some time off and went to an MRI (scan)  and everything is fine. I have been serving in last couple of  days, playing 100 per cent, so I'm ready for the tournament."
Around the Web