By Emmerson Campbell
The Guyana Amateur Powerlifting Federation (GAPF), inspired by gold medal performances at the Caribbean and North American Regional levels, has declared its  confidence that two of Guyana's most decorated senior powerlifters are ready for the world stage.
Winston 'Little Master' Stoby and 'Big John' Edwards are scheduled to take on the best at the upcoming IPF (International Powerlifting Federation) World Masters Powerlifting Championships in St. Catherine, Canada from September 26 to October 4, 2011.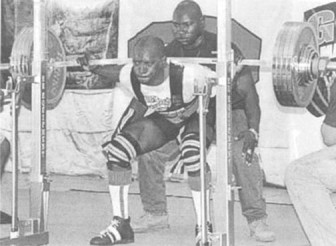 John 'Big John' Edwards will be competing in the tougher of the two categories – the 120kg/265lb M1 weight class. The undefeated local Open as well as Masters heavyweight champion, has a remarkable international record of being undefeated at the Caribbean, Regional and Pan American levels since 2008.
However, this will be the biggest challenge and crowning achievement of his career.
Ranked at no. 7 in his weight class for the championship with a total of 860kg/1,896lbs as against the favorite with a total of 922kgs/2,033lbs, 'Big John' is expected to go all out as he has been posting totals of 925kgs/2,039lbs in the gym.
Significantly, he will become the first Guyanese
powerlifter to officially break the 2,000lb total lift barrier in the history of the local sport.
For Winston 'Little Master' Stoby, the wheel will be turning full circle. In 1996, lifting at the IPF Pan American Championships in Hampton, Canada, Stoby captured Guyana's first gold medal in the individual dead lift as well as setting the then record of 600lbs.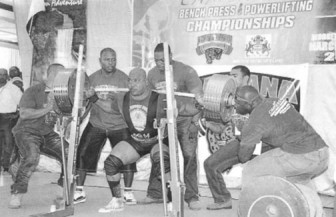 The 2010 Caribbean and CAC Open and NAPF Regional gold medalist in the 74kg/163lb weight class is currently ranked number one at the championships with a total of 655kgs/1,442lbs with his nearest challenger being listed at 620kgs/1,367lbs. However the 'Little Master' recorded a total of 663kgs/1,462lbs at the recent local Masters championships.
Both lifters have been gradually increasing their totals and are expected to peak for the championships. Both categories will each feature 14 of the world's best lifters.
President of the GAPF, Peter Green, has placed full confidence in the lifters to make Guyana proud, and stated that both Stoby and Edwards are ready to step up to the challenge.
Said Green:"My lifters will not be there to just take part. They will be there to take apart the opposition. Only an act of God can stop them!"
Edwards will be entering the tournament as an underdog, but that just may work in his favour as he proved at the 2009 Pan American Championships.  Going into the competition with a ranking of No. 4, 'Big John' powered his way past the higher ranked lifters to capture the gold.
The two powerlifters are seemingly poised to join Guyanese Hugh Ross, the reigning Mr. Universe Masters Champion, as World Champions in their own right!
An appeal is being made to the corporate community to play a significant role by getting onboard this potentially history-making venture, the federation said.
John 'Big John' Edwards – 120kgs/265lbs weight class
Current Open and Masters M1 category champion; 2008 IPF/NAPF Regional Gold Medalist (2) – open and Masters M1 2009 IPF/NAPF Caribbean Gold Medalist (2) – open and Masters M1 2009 IPF Pan American Gold Medalist (2) – open and Masters M1 2010 IPF / NAPF Caribbean Gold Medalist (2) – open and Masters M1 2011 IPF / NAPF Caribbean Gold Medalist (2) – open and Masters M1.
Mr John Edwards can be contacted on telephone number 623-6550 while Mr. Winston Stoby's number is 624-8710.
Around the Web