Former Mae's Secondary School student Rashad Hussain  relegated  Government Technical Institute's Anthony Drayton to second place in the junior category of the Texaco Bel Air Rapid Chess Tournament held  Sunday last at the West Demerara Secondary School .
According to a press release from the Guyana Chess Federation (GCF), Hussain ended  with five-and-a-half points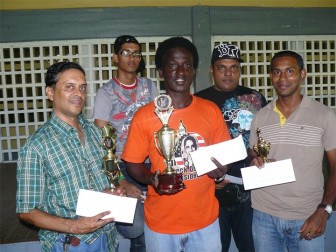 after scoring five wins and a draw in the  round tournament.
Hussain not only topped the junior category but he also placed fifth in the senior category which was won by Learie Webster with seven wins.
Drayton ended with five points from four wins and two draws.
Third place among the juniors went to reigning junior national champ Ron Motilall whose brother Raan, placed fifth.
Webster's only defeat came in the first round when he lost to Glenford Corlette.
Webster, however, bounced back with straight wins for the remainder of the tournament to rule the roost.
Second place went to GCF President Shiv Nandalall, who was one point off from Webster,  with  six wins and two losses while GCF Tournament Coordinator Irshad Mohammed scored  five wins and two draws to also end also with six points and  third place. Fourth place went to Kriskal Persaud.
Following the tournament the winners were provided with their prizes in a simple presentation ceremony.
Around the Web