NEW YORK, (Reuters) – Novak Djokovic's opponent, qualifier Conor Niland, was sick to  the stomach before their first-round match yesterday and it all went downhill from there as the  top seed battered him 6-0 5-1 before the Irishman quit the contest.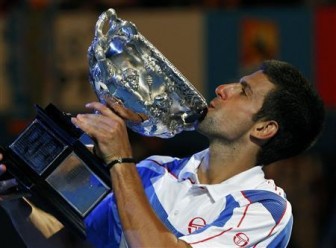 World number one Djokovic showed no ill effects from the sore shoulder that caused him to  retire from the Cincinnati final and gave himself high marks for his brief workout at Arthur  Ashe Stadium.
"I felt great on the court, and that's something that's really important for the start of  the tournament, Djokovic said after barely breaking sweat in his 44 minutes of work in sunny  Flushing Meadows.
"Today was a great opening performance."
What should have been a glorious day for Niland, the first Irishman to make the main draw  at the U.S. Open, was instead an embarrassment as a case of food poisoning left him worrying he  would besoil the blue surface of centre court.
"I warmed up and got sick everywhere after my 30-minute warmup," Niland told reporters,  adding that he had hardly been able to keep any food down since dinner of salad and a pork dish  Sunday night at a fancy Manhattan restaurant.
"I thought I could bluff my way through but you can't do that against the number one in the  world, I just found out. I thought I was going to vomit after long points. I just felt really,  really rotten out there."
On the other end of the spectrum, Djokovic was all smiles.
The Wimbledon and Australian Open winner ripped 14 winners to three for the Irishman.  Djokovic made just seven unforced errors to 18 for the struggling Niland, and broke his serve  on five of six opportunities while never facing a breakpoint.
"This has been a very long year," noted Djokovic, who improved his sensational 2011 record  to 58-2. "So I really don't mind that I spend less time on the court.
"Today I didn't feel any pain. I served well and I played well, so I have no concern."
The highlight for Niland came when he held serve in the eighth game of the match to make it  1-1 in the second set when the Serb's sizzling forehand tipped the netcord and floated wide of  the line, drawing a big cheer of support from the National Tennis Center crowd.
"It was nice when I got a game," said the frustrated Irishman. "They gave me a big, ironic  cheer."
The highlight for Djokovic is presumably yet to come. The top seed said his appetite for  grand slam success has grown with his recent triumphs.
"To be honest with you, I even have more motivation to play and to win more grand slams,  now more than ever that I know that I can actually perform equally well on any surface, that I  have equal chances on any grand slam I play," said Djokovic.
"This is something that gives me a lot of desire."
Next up for Djokovic, 24, will be either Pere Riba of Spain or Carlos Berlocq of  Argentina.
Around the Web