President of the Guyana Lawn Tennis Association (GLTA) Christopher Ram on Tuesday praised Nigel's Supermarket for its annual sponsorship of the sport and the Ministry of Sport and the National Sports Commission for providing facilities for the sport.
Ram made the announcement at the prize-giving ceremony of the recent Nigel's Junior Classic Tennis Tournament held Tuesday on the tennis courts at the Racket Centre, Non Pariel.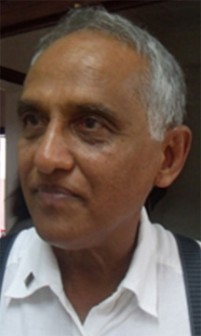 Winners and runners-up received trophies, compliments of the sponsor, Nigel's Supermarket.
The round robin tourney, which began last Tuesday and concluded on Sunday, attracted boys and girls in four categories, 18-years-and-under, 14-years-and-under, 12-years-and-under and 10-years-and-under.
In the boys 18-years-and-under category, Gavin Lewis captured the first place trophy while Daniel Lopes was the runner-up. Craig Campbell defeated Desmond Green in the 14-years-and-under category while Kishon Reece and Toshan Jamuna overcame Anthony Grant and Nkozi Beaton in the 12years-and-under and the 10-years-and-under categories respectively.
On the distaff side Shawna Gentle won the final against Crystal Sukhra in the 18-years-and-under division but her sister Afruica Gentle was less fortunate as she lost to Aretta Dey in the 14-years-and-under final.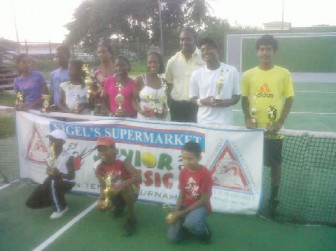 In the 12-years-and-under category, Kelicia Fraser took home the first place trophy while Shivani Persaud had to settle for the second place accolade.
There was also a mixed doubles match involving winners Daniel Lopes and Aruna Ramrattan and runners-up Seanden David-Longe and Shauna Gentle.
Speaking at the ceremony, Ram congratulated the players for their efforts and their discipline. He also thanked the sponsor Nigel's Supermarket for contributing to the development of young tennis players over the past years.
Nigel's Supermarket has been running the annual tournament since 2004. He also stated that the Ministry of Sport and the National Sports Commission (NSC) should be lauded for their input in the rehabilitation of the Non Pariel courts.
Handing out trophies at the ceremony were National Sports Commission (NSC) official Gervy Harry and Nigel's Supermarket representative, and national table tennis player Christopher Franklyn. Also present at the ceremony were GLTA vice president Nigel Glasgow, Chairperson of the Guyana Tennis Coaches Association, Andre Lopes and PRO of GLTA Sandeep Chand.
Around the Web