Nicola Ramdyhan failed to move past the quarterfinal rounds of the International Tennis Federation (ITF) under-13 development tournament in Suriname when the tournament continued last Wednesday.
According to a press release the four-member squad which has encountered mixed fortunes in the tournament saw the top under-13 player Ramdyhan bowing out of the competition when she lost easily to Eva Frazzoni in two sets at 6-3 and 6-2.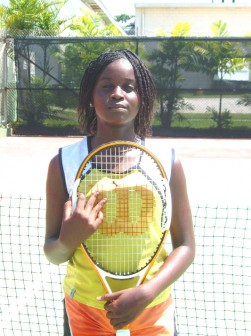 Prior to Ramdyham's exit from the competition, she had some success in the qualifying rounds as she won two of her qualifying matches while losing one.
Meanwhile teammates Judah Stephney and Anneasa Grandison who are newcomers to international competition found it tough against the higher level.
However, Stephney was still able to nick a win over Luis Marcano of the Netherland Antilles in a tiebreaker match that went 6-2 6-7 and the tiebreaker set at 7-5 in the consolation plate.
Grandison, however, was more unfortunate when she lost 0-6 and 1-6 to Carissa Rodulfo of Trinidad.
The tournament will continue today with the girls doubles as Ramdyhan and Grandison  take on Allana Blackmon and Symphony Griffith of Barbados while Stephney will take on Shaquille Jean-Marie of St. Lucia.
Around the Web