DAEGU, South Korea, (Reuters) – Veronica Campbell-Brown ripped Allyson Felix's 200 metres crown from her grip yesterday while another Jamaican scorched up the road to redemption and into the hearts of the Daegu crowd at the world athletics championships.
Usain Bolt, the world's fastest man, sealed his reputation as the sport's greatest showman as well as its fastest athlete with a peerless display of both charm and chutzpah, powering his way through two heats of 200 metres.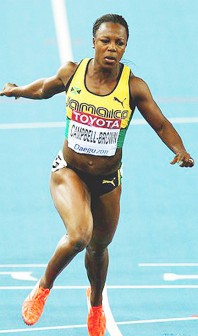 "It's my favourite event. If I get a good start and execute, nobody beats me," he said, the old swagger back after a humbling disqualification in the 100 metres final for a false start. "Expect always the best from me. I am focused on getting everything done."
While Bolt was whipping a capacity 45,000 crowd into a frenzy with a potent mix of speed and good-natured posturing and posing, another figurehead at these championships was forced to say his goodbyes early.
Double amputee Oscar Pistorius was axed from South Africa's 4×400 final relay team, the quartet he had led off to a national record just a day before.
Their decision appeared to have been vindicated yesterday when the South Africans took silver in the final, beaten only by the U.S. team. Pistorius continues to break down barriers, however, as he will be awarded a silver medal after running in the heats.
"STILL THE BEST"
Having lost his 100 metres crown on Sunday to Jamaican understudy Yohan Blake, it was clear Bolt felt he had to make amends.
"I know I am still the best," he said of the 100. "Of course I'm disappointed because I didn't give myself the chance to go out there and execute my best."
He did well to mask that disappointment, however, and he was back to the good-natured showboating of old. The crowd feted him like a rock star, screaming and shrieking in response to his every theatrical salute.
This was no one-sided love affair. Bolt sent a section of the crowd into a frenzy when, grinning, he hurled his running spikes into the crowd, before disappearing into the bowels of the stadium to prepare for one more tear down the track in the final.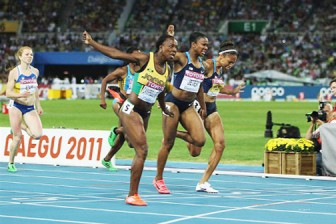 The disappointment of his false start in the 100 may have been forgotten, but not the lesson learned, and he was last out of the blocks by a considerable margin.
Such is his dominance over 200 metres, however, the world record holder is in no need of a lightning start to retain his title.
FINALLY, GOLD
Not many had picked Campbell-Brown for the women's 200 metres title here, with Carmelita Jeter in sensational form having won the 100 metres and Felix more determined than ever having missed out on the 400 metres gold earlier in the week.
But an eager 'VCB' was first out of the blocks and found an extra gear in the race to cross the line first, ahead of Jeter with Felix third.
"I want to thank God for giving me the strength," Campbell-Brown told reporters. "I have a world silver, so finally I got the gold medal. I knew I had to run a strong curve."
The melodic Kenyan national anthem rang out once more in the Daegu stadium when Vivian Cheruiyot took the women's 5,000, adding it to the 10,000 she won earlier in the championships.
In the field, burly German David Storl took shot put gold with his final throw, hurling it 21.78 metres, a personal best, while in the women's javelin Russia's Maria Abakumova struck gold with a throw of 71.99 metres.
American Dwight Phillips successfully defended his world long jump title, claiming a fourth world title to add to his 2009, 2005 and 2003 gold medals.
Around the Web