Amateur boxers Benjamin Henry and Marvin Ageday said yesterday that they are prepared for the Youth Commonwealth Games that will be held in the British Colony, Isle-of-Man from September 7-13.
At the Forgotten Youth Club Boxing Gym yesterday, the two were engaged in speed training under the watchful eyes of coaches Sebert Blake and Wincel Thomas.
Ageday said:"Being around boxing for years, I have the experience and feel that I can go out and dominate the competition."
Henry, on the other hand said," I am prepared to go out and do my best."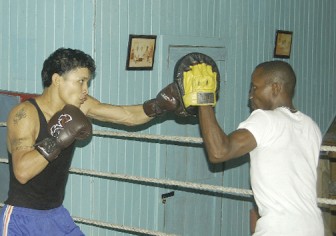 Of the two, Ageday is more experienced, as he has been in the sport for close to 12 years. He also won a gold medal at the Inter-Club level.
Henry, who has been two years in the sport, is from the Port Kaituma Boxing Gym.
Blake, not wanting to make any predictions,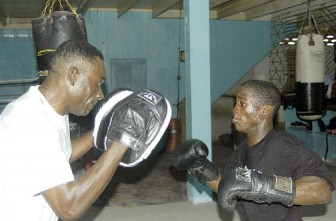 said his fighters have the ability to medal at the games.
"Experience with training puts the two at one hundred percent prepared to enter the ring as early as tomorrow," Blake said.
He also seems unconcerned about the lack of or limited exposure at the international level.
To combat that, he said, the boxers were given an opportunity to spar with fighters differing in height and fight techniques.
The past three months saw the two training rigorously. The monthly Friday Night fight cards also helped in fine-tuning their skills.
Benjamin won one of his two matches while Ageday won both his encounters.
Blake has highlighted the fact that  there has been some amount of progress shown by both fighters.
"Over that period we saw progress because they were able to move from one level to the next," was his opinion.
The end result is winning gold, but Blake says their primary focus is getting to the semi finals. The two along with Blake leaves for Isle of Man on Tuesday, and the first fight is scheduled for the September 8. (IW)
Around the Web