The much-anticipated European Union (EU) sponsored Medal Play golf tournament will be contested today at the Lusignan Golf Club starting at 12:30 hours.
EU Ambassador to Guyana, Geert Heikens, and his wife Rita, two ardent golfers will compete in the tournament and will later entertain the players at a presentation dinner at the Ambassador's residence.
The line up should include last week's winner Mike Mangal, Mohanlall Dinnanauth, Dr. Ram Singh, Muntaz Haniff, William Walker, Brian Hackett, Clifford Reis, Carlos Adams, Patrick Prashad, Robert Hanoman, Ronald and George Bulkan, Troy Cadogan, Rawl Moore, Andre Cummings, Colin Ming, Mark Lashley, Chatterpaul Deo, Joaan Deo, Christine Sukhram, Maurice Solomon,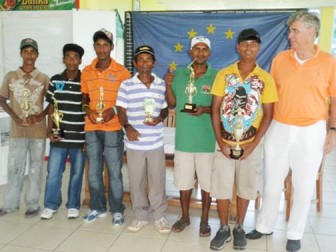 Jerome Khan, Mike Gayadin, Esau Shamshudin, Bholawram Deo, Fazil Haniff and John Tracey.
There will be the usual players briefing 15 minutes before the start of play.
Meanwhile, Avinda "Ganguly" Kishore and Brian Prince won their respective division in the last Sunday's sponsored EU sponsored Caddies tournament played at the Lusignan Course.
Kishore won the senior title while Prince came out victorious in the junior category.
Chandra Lakeram was second among the seniors while "Muslim" was third.
Kevin Deonauth was second in the junior category while Kevin Boodram was third.
Around the Web