NEW YORK, (Reuters) – Serena Williams faces an early test of her prospects of winning the U.S. Open when she meets Victoria Azarenka in the third round at Flushing Meadows yesterday.
Williams, back at the U.S. Open for the first time in two years after injury forced her to skip the tournament last year, won her first two matches in straight sets but faces a tricky encounter against the fourth-seeded Azarenka of Belarus.
The pair were drawn to play each other early because Williams was seeded 28th after her ranking plummeted during her long layoff.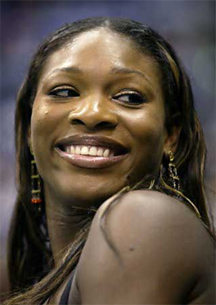 The American, a three-time winner of the U.S. Open, has been installed as the favourite to win the title but insists Azarenka holds the advantage.
"She's had a whole year to prepare and she's been doing really great," Williams said.
"I kinda feel I'm definitely going in as the underdog because she's won more tournaments and she's been doing a lot. I feel like I have nothing to lose in this match."
As the fourth seed, Azarenka had cause to curse her misfortune at meeting the former world number one so early but said she was looking forward to the challenge.
"It's not bad luck. It's a great opportunity," she said.
"She's like a warrior on the court. That's what we're all trying to be. That's what I have to be, really focused myself."
World number one Caroline Wozniacki takes on unseeded American Vania King today. The Dane has been facing criticism because she has not won a grand slam yet, but has a great chance to go a long way in the tournament with the draw opening up nicely for her.
"I just take one match at a time," Wozniacki said.
"I believe I can beat anyone on a good day. But I have to play on a high level for seven matches and that's not easy."
Roger Federer and Novak Djokovic are both back on the Arthur Ashe Stadium center court, facing testing opponents after cruising through their first two rounds.
Five-time winner Federer faces Croatia's Marin Cilic, seeded 27th, while top seed Djokovic is up against Russia's Nikolay Davydenko, an opponent he rates as highly dangerous.
"I think he's underrated, one of those players that the people are not talking about too much," Djokovic said.
"If he is on the roll, if he feels the ball well, he can be very dangerous because he plays very fast. But if I continue on playing this way, I'm confident that I have a good chance."
Around the Web