Defending champion Cleveland Forde proved yet again why he is Guyana's top distance athlete when he crossed the finish line in first place yesterday at the AINLIM 10 kilometres road race which started uplace at with outside at the company's main entrance.
The race got off to a slow start with seasoned junior campaigner; Nathaniel Giddings shooting to the front of the race to establish a marginal lead ahead of his competitors.
However, with no one looking to challenge the junior athlete who ran bare footed, he made his move and opened up the lead to about 500 metres over his competitors.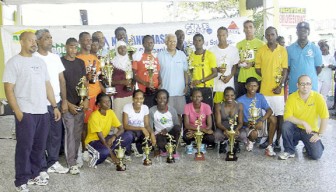 Continuing at a high pace Giddings looked in control of the race at Sterling Products which was the turning point for the race.
At approximately Eccles Village, Forde, who was some 600 metres behind Giddings, started to pick up his pace and with each stride the gap between the experienced senior and the junior closed.

At the Houston village it seemingly dawned on the junior that he was about to be overtaken by Forde but with one final push Giddings held on for about 200 metres more until he was unable to keep up with the increasing pace of Forde who shot past him at Banks DIH turn before the final turn to the homestretch.
Forde eventually clocked 34.24s for the first place while Dennis Horatio 35.30s and Cleveland Thomas 35.48s came in second and third respectively.
Giddings ended with a time of 34.36s to capture the junior first position way ahead of Chavez Sital 37.16 and Kevin Bailey 37.46s finishes.
"Well I came out here with no intention of pushing myself.
I just came out to run and wasn't looking for a fast time. The traffic was terrible and you need more traffic police for certain distances," Forde told Stabroek Sport after the race.
Distance queen, Alika Morgan, had no problem in retaining her AINLIM 10k title as she led from start to end to pick up her first place finish in a time of 41.56s.
Ashanti Scott 43.22s and Eva Harry 47.44s trailed in second and third respectively.

"Basically the race was good but it started a little late with the sun up…I was training hard for this race and the up coming Courts 10k so I expected the win because my training is intense and with the traffic they should have more traffic police because you were running into traffic, so the traffic was a little rough," Morgan told Stabroek Sport after her win.
Two-time gold Carifta Games gold medallist, Jevina Straker got into the thick of things when she won the junior title in a time of 46.06s ahead of Adama Roberts 46.41s and Shaurice Hutton 48.03s.
In the Masters category, Local sprint queen Alisha Fortune took off her sprinting shoes and bodysuits to saddle up with her running joggers and trunks to clock 51.40s to win the female version ahead of former 800 metres athlete Lorriann Adams who clocked 1:02.45s.
The male version saw Llewellyn Gardner taking the top position in a time of 42.31s ahead of Maurice Julian 44.24s and Silas Brummell 45.24s.
At the presentation ceremony, Chief Executive Officer of Neal and Massy Group of Companies, Deo Persaud,  along with president of the Athletics Association of Guyana (AAG), Colin Boyce, congratulated the athletes while hinting at the possibility of making the event bigger in the near future with an invitation to the company's branches in Trinidad
Around the Web