Tight defence and speedy foot work enabled the Guyana Defence Force GDF) rugby team to win the Guyana Football Rugby Union (GRFU) Seven's League tournament that concluded Saturday at the National Park.
Thanks to their pint-sized speedster Breon Walks, smart ball movement and air-tight defence the soldiers were able to overcome the two other teams in the in the competition, the Hornets and the Yamaha Caribs.
The three weekend long tourney which was filled with excitement, entertainment, sweat, tears and even blood ended fittingly as GDF was the better team throughout the competition. The Caribs on the other hand have a lot of work to do.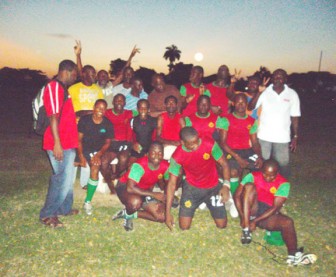 At Saturday's finals GDF defeated Caribs and Hornets 10 to five and 10 to nil respectively, while Hornets edged out Caribs seven to five.
In the GDF's game against the Caribs, Caribs forward Volan Adams put his team ahead in the fourth minute of the first half by recording a try. In the third minute of the second half however the flashy winger Walks scored a try to equalize the score.
Walks would later put his team ahead by completing another try in the last minute of the game.
Adams also recorded a try against the Hornets but a try by Troy Arjune and a conversion by Ryan Gonsalves, handed the Hornets the victory.
Against the Hornets Joseph Rahaman and running back Rodwell Hutson each recorded a try for GDF with Rahaman's  in the second minute of the first half and Hutson's in the 13th minute of the game.
Around the Web