Muntaz Haniff proved to be the player to beat when he turned back stiff opposition to win the European Union Medal Play golf tournament for the second successive year.
In a highly charged tournament Saturday at the Lusignan Golf Course, Haniff who has been consistent so far this season shot net 66 beating eight other players who also recorded scores in the 60s.
Battling against a very competitive field where nine players finished in the 60's, Haniff shot net 65 to come out victorious.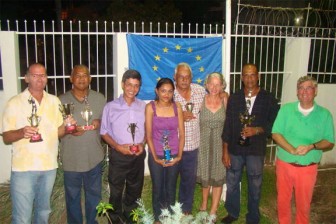 The second placed went to Colin Ming who won on a  countback from Dr. Ramsingh who finished third after the two players finished with  net 66.
William Walker was the player with the best gross of 74 and he also won the Nearest to the Pin prize.
Mark Lashley had the most accurate drive while Joaan Deo was given a top ladies prize.
EU Ambassador to Guyana Geert Heikens who hosted a presentation dinner thanked the players for participating in the tournament.
Heikens whose tour of duty to Guyana will end soon said he appreciated the warm hospitality of the members of the Lusignan Golf Club.
He said while he had failed to win a tournament in his four years in Guyana, his wife Rita has been consistent on the course winning a few titles.
"Living in Guyana is fantastic; I will always remember Guyana for its hospitality. I have eaten labba and drank creek water so I hope to return to Guyana again soon," he remarked.
President of the LGC Brian Hackett said the Ambassador and his wife were part of the LGC family and they will be missed.
He said the Club was extremely pleased for the assistance of the European Union especially Geert and Rita.
The EU also sponsored a Caddies tournament last weekend.
Around the Web