The inaugural Hikers Hair and Nails in-house ladies hockey tournament organised by the Hikers Hockey Club recently concluded at the St. Stanislaus College with Cruisers getting the better of Chickas in the final.
According to a press release, 30 players from the Hikers ladies programme, including six national players who recently returned from helping Guyana qualify for the 2013 Pan American Cup, were a part of the inaugural event.
The players were drafted into six teams of five players and the teams played a preliminary round robin first stage before being seeded for the knockout stage.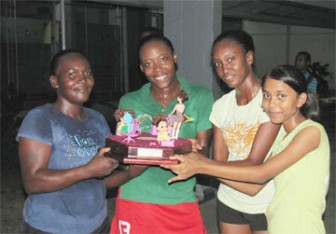 At the end of the preliminary stage, Cruisers and Star Chickas were tied on eight points with Cruisers getting the nod for the number one seed due to their superior goal difference.While the top two teams received byes into the semifinal stage, the four remaining teams played quarterfinal matches to determine the other two semifinal spots, the release stated.
In the quarterfinals, Cake Soap, led by former national player Latoya Fordyce, defeated Sharing Lix 1-0 while Dewormers took care of Invaders 2-0 on penalty flicks after the game was tied at 1-1, at the end of regulation.
The final then turned into a rematch between the two top seeds as Cruisers edged Cake Soap 1-0 in the first semifinal before Star Chickas outlasted Dewormers in a 3-2 shootout.
The final proved to be a tense affair from the start as both teams refused to give an inch before Star Chickas captain Maria Munroe received a green card. She then watched from the sidelines as Cruisers' Cora Towler took full advantage by scoring the only goal of the game, before Munroe could return to the court.
The Hikers Hockey Club, in the release stated that they intend to make the tournament an annual affair as it helped to give the junior ladies and adult beginners their first taste of high level competition.
Cruisers will have their names engraved on the trophy as inaugural winners of the competition, as well as receiving a hair wash and style, compliments of Tricia's Salon.
Around the Web