NEW YORK, (Reuters) – Top seed Novak Djokovic saved four set points in a marathon  first-set tiebreaker before rolling past Alexandr Dolgopolov of Ukraine 7-6 6-4 6-2 to reach  the quarter-finals of the U.S. Open yesterday.
The Serb won the opening set decider 16-14 on his sixth set point, cupping his hand over  his ear to encourage the Louis Armstrong Stadium crowd's roars of approval before pumping his  fist in joy.
"Winning it was very important," the world number one said. "That was probably the turning  point. After that it was a good performance."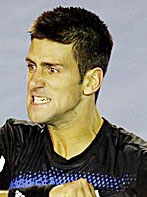 Djokovic had his hands full figuring out the unorthodox style of his 22-year-old opponent  as well as the swirling winds that swept through Flushing Meadows, but his straight-sets win  meant he still has yet to lose a set in the tournament.
"He was changing pace a lot," the Wimbledon and Australian Open champion said. "He was  always sending me a different ball. It was really hard for me to adjust to it because of the  conditions that we played in.
"That's why it was crucial for me to win the first set. After, I felt a bit more relaxed."
Dolgopolov, who won his first tournament this year and his first matches at a U.S. Open,  said he felt good in his first ever match against Djokovic.
"I felt comfortable on the court," he said. "I think I just need to get my first serve, for  sure. You can't play a great returner like that, serve around 40 percent, that's impossible.
"I was having fun just stepping on the court, so much people, good court, playing Novak. I  made a good result in the tournament. I was just happy to play tennis. I gave a bit of a fight,  but I still need some work."
The victory improved Djokovic's 2011 record to a remarkable 61-2 and took him through to a  19th straight grand smal quarter-final.
His next opponent is his good friend and Davis Cup team mate Janko Tipsarevic, who beat  Juan Carlos Ferrero of Spain in a nearly four-hour struggle.
"It means there's going to be at least one Serbian in the semi-finals, which is great for  our country," Djokovic said.
"I think this is the first time I play Janko in a grand slam. We are great friends. It's  not going to be easy to play him, but look, it's the quarter-finals and we both want to win."
Around the Web