Georgetown Pitbulls became the inaugural Kares Engineering/Bushy Park Sawmills 10/10 champion when they defeated Invaders by 42 runs on Sunday night at the Guyana National Stadium, Providence.
The Pitbulls, after defeating favourites Albion Community Centre in the semi-final, posted the highest total of the night, 95-6, before restricting their opponents to 63-6 in their 10 overs.
The Georgetown team lifted the $1M first prize on the contributions of an unbeaten 21 from Derwin Christian,
23 from Trevon Griffith and 14 from Suresh Boodhoo.
Chris Sookram was the chief wicket taker for Invaders with 2-11 while Richard Baker (1-10), Lincoln Leander (1-17) and Khemraj Ramsundar (1-19) assisted. When Invaders batted, Ramsundar's score of 20 was the only one of significance.
Christian returned with the ball to take 2-3.
Meanwhile, Christian was the most consistent performer for the Pitbulls on Sunday, top scoring with 25 and taking 2-9 against Albion in their first match. Also in that game Christopher Barnwell contributed 18 (1×4, 1×6) as their team chalked up 79 all out.
When Albion replied they fell short by 16 runs to end on 53-6 with Jonathan Foo (32) and Ramnarine Chattergoon (18) adding 46 for the second wicket.
In the ladies' final Mike's Wellwoman defeated Trophy Stall XI by 13 runs to take the $500,000 top prize. Victoria Bacchus headed the batting with a polished 29 (24) and shared in a 48-run second wicket partnership with Onica Wallerson, who made 18.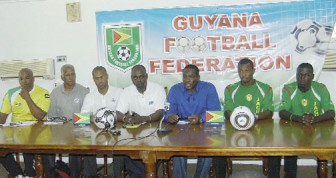 However, after the loss of three quick wickets Wellwoman were restricted to 72 with Trophy Stall's Kavita Yadram taking 3-10. She got support from Latoya Toney and Angela Walrond who captured 2-14 and 2-17 respectively.
When Trophy Stall responded, they made 53-9 with Monica Seales making 12 as Joann Van Sertima and Prudence Williams having miserly figures of 2-5 and 2-7.
In the schoolboys and girls' categories, J.C. Chandisingh Secondary and L'Adventure Secondary were the respective winners. J.C. Chandisingh defeated St Rose's High by six wickets while L'Adventure beat IPE Divas by 78 runs.
The winners in the schools competition earned $200,000 which will go towards a project in the school.
In the Schoolgirls final, L'Adventure took first strike and posted an imposing 115-1; extras contributed 47 to that score. Tishana Douglas (44) added 99 for the second wicket with Satywattie Sugrim (17).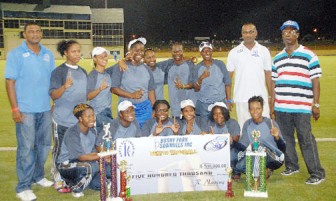 When the IPE Divas replied, they managed 37-8 with extras contributing 20. Mercedes Alfred took 3-5 for the victorious L'Adventure lineup.
St. Rose's were asked to take first strike by J.C. Chandisingh and were limited to 51-8. Chaitram Nauth top scored with 16 while David Mohammed and Yogeshwar Ramgobin scored nine runs each.
Arif Chan, Imzam Ali Nizamuddin and Shailendra Shameer took two wickets each for J. C. Chandisingh who reached 52-4 from 6.4 overs in reply. Nizamuddin's made 13 as extras accounted for 21 as Mohammed took 2-8.
Nizamuddin and Douglas were named the players of the final in their respective categories and received a trophy and a laptop.
Prior to the start of the day's action, both Halim Khan and Radesh Rameshwar, Executive Director of Kares Engineering and Bushy Park Sawmills urged the teams to give of their best not only for themselves, but their team.
Khan, president of the Guyana Softball League, urged the teams to observe the rules at all times, reminding the players that the umpire's decision is final.
Rameshwar told the players that the final may be a good day for all of them and their team. The tournament was sponsored to the tune of $10M and bowled off two months ago with 942 teams.
"We are extremely delighted to be associated with this tournament this year and I must say that come next year, we will be sponsoring a bigger and better tournament where the prizes will be doubled in all categories, while the  man-of-the-series will be driving home a motor car," Rameshwar revealed.
Around the Web