BRIDGETOWN, Barbados, CMC – West Indies Under-19 head coach Roddy Estwick has hailed the success of the recent training camp staged at the High Performance Centre here.
Estwick, a former Barbados seamer, was one of several team management officials that oversaw the weeklong training sessions, in preparation for the West Indies Under-19 tour to India starting later this month.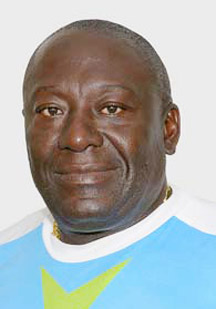 "We need more camps like these because fitness has become very important in cricket and we did the tests and the players now each have individual programmes to work with to improve, these camps allow us to gauge where they are from time to time and then work on making them better," Estwick said.
"If they continue on the path they are on and they keep the attitude they have, as a group, they will be a credit to West Indies cricket.
"It was a short camp but it was successful, especially because the support team was very good, the players were able to receive a lot of one-on-one coaching from the various experts who were there."
In India, West Indies will play in a One-Day Quadrangular series involving Australia, Sri Lanka and hosts India from September 27 to October 9.
A 19-man squad, selected following the recent One-Day youth tournament in Guyana, participated in the camp under the guidance of the management team unit led by head coach Roddy Estwick, assistant coach Stuart Williams and team manager Courtney Walsh.
"I want to put my hand up and say that the boys all worked well, they never complained; because of the weather the situation was trying sometimes but they stuck it out on some very long days and their overall attitude was brilliant," Estwick said.  During the camp, several great former West Indies players shared their experience with West Indies head coach Ottis Gibson, decorated opener Desmond Haynes and fast bowler Walsh all participating.
Around the Web