The Guyana Chess Federation junior qualifiers will start this weekend at  West Demerara Secondary School and champion Ron Motilall said he would be paying keen attention to three players,  Anthony Drayton, Suhai Feng and former champion Cecil Cox.
Seven players from the qualifiers will advance to the national championship, which starts next month. Motilall said each of the players competing in the qualifiers has the ability to qualify for the national championship, so no one should be underestimated. The competition according to tournament coordinator Irshad Mohamed will attract lots of junior players since this is the only opportunity for them to compete at the national level.
The eight rounds Swiss tournament will be played over a period of two weeks.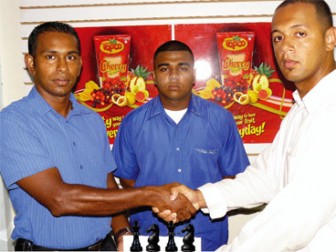 Mohamed said while invitations were sent to players residing out of Georgetown, he does not expect them to come in large numbers because of the long commute.
"I think the federation is actually looking into how we could get more of the Berbice and Linden kids involved. If it comes to that I think we are going to have separate tournaments, one in Linden, Berbice and Essequibo where at least one or two of these kids could come out and play Georgetown." He said it is be easier to host tournaments in those areas rather than having the children travel to the city to compete over two weekends.
Mohamed could not give a time line as to when such a programme would be implemented, but said it is not the intention of the federation to leave those junior players out.
"We have seen some of them play and the potential of the kids, but a majority of the tournaments are centered around Georgetown. I think that is what is responsible for kids around Georgetown getting stronger."
According to him if regular tournaments are not held in communities outside of Georgetown, then it would be difficult for the federation to see the progress made by the juniors.
The qualifiers are sponsored by Demerara Distillers Limited (DDL) under its Topco brand.
Around the Web