By Emmerson Campbell
Vurlon Mills is said to be currently the hottest striker among Guyanese footballers.
Fresh off scoring three goals in his last three games for Guyana's senior men's team, the Golden Jaguars, Mills has burst onto the scene and is expected to become a familiar face in the lineup for years to come.
Mills, who floats between being a midfielder and a striker, is a relative unknown to the public compared to other big names and overseas players in the lineup, including  US-based Gregory 'Jackie Chan' Richardson and UK-based  Shawn 'Bubbly' Beveney.  However, his performances have been quite instrumental in Guyana's last few games whether by assisting teammates with his playmaking or scoring himself.
In an international friendly against India last month at the National Stadium the Jags edged out India 1 goal to nil with Mills netting the lone goal. Also, he was quite effective in the two group B games in the CONCACAF 2014 World Cup qualifiers against Barbados and Bermuda which Guyana won at the stadium earlier this month.
Though not scoring in the Barbados game Friday last which the local boys won 2-0, Mills assisted on one of the plays. However, against Bermuda on Tuesday, Mills was the lone scorer as he found the back of the net on two occasions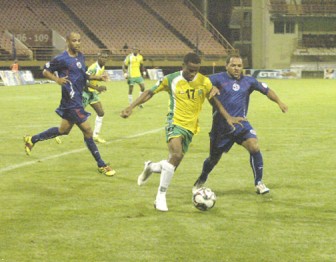 handing Guyana a 2 – 1 victory. He was also the Most Valuable Player (MVP) and leading goal scorer. Mills, who started playing football at the age of eight has matured quite impressively and has campaigned overseas. The footballer has been playing semi-professional football in Trinidad and Tobago for the past five years, representing United Petrotin, W Connections and T and TECH football clubs. Mills has aspirations of playing for a club in Europe, with Real Madrid and FC Barcelona as his top two preferences. Mills describes himself as a calm, focused hard worker who is passionate about football.
He disclosed that he mostly consumes pasta before games but has no specific diet chart as other world class athletes. However, his work ethic and training keeps him fit and well conditioned.
Mills said he trains five days a week with gym training on two of those days.
However, he observed that the level of football in Guyana is very low compared to the twin island republic and opined that a lot more needs to be done to improve and develop the game locally. He maintained that the lack of a local league is one of the major causes.
The 23-year-old who has played seven games for the national team with five goals, first started playing at the club level for Western Tigers at the age of 15, but he currently plays club football for Fruta Conquerors whenever he is not on national duties or playing in Trinidad.
Mills described his play on the field as lethal, disciplined and entertaining. And he said that some of his football idols are French legend Zinedine Zidane and Argentina's captain and FC Barcelona striker Lionel Messi. The Aquarius-born Mills, whose parents are Jerry and Sharon Mills, grew up in North Ruimveldt. He is the third of seven children. Mills mentioned that besides football he enjoys playing pools, travelling, fishing and hanging out with his peers.
He is also fond of Reggae and R and B music with Buju Banton, Morgan Heritage, Sizzla, Trey Songz and Ne Yo being among his favourite artistes.
Mills is sending out a message to young, aspiring sportsmen and women, urging them to follow their dreams and work hard to achieve them and to stay away from crime, drugs and alcohol.
Around the Web