ZURICH, Switzerland, CMC – World champions Yohan Blake and Kirani James sustained their purple patches from the recent Daegu showpiece, clocking personal bests to dominate the Weltklasse Zürich Diamond League meet yesterday.
While Jamaican Blake brushed aside fellow Jamaican Asafa Powell to win the 100 metres in 9.82 seconds, teenager James stormed to victory in 44.36 seconds, a national record, in capturing the 400 metres.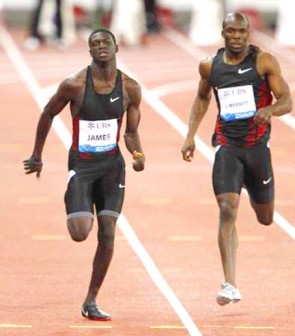 Coming just days after their outstanding showings at the World Championships, both athletes again dominated to send strong signals to their opponents especially with the London Olympics looming next year.
Blake was away from the blocks slowly but accelerated to overtake Powell after 60 metres and race to the finish impressively.
"I am not surprised to win in a personal best time even though I am just back from Daegu," the 21-year-old Blake said.
"The future looks good for me. I'm looking forward to the Olympics next year."
Powell, who missed the World Championships with injury, finished second in 9.95 seconds while American Walter Dix was third in 10.04 seconds.
Veteran St Kitts and Nevis sprinter Kim Collins trailed in fifth in 10.09 seconds with Jamaican Nesta Carter (10.12) and Trinidadian Richard Thompson (10.23) sixth and eighth respectively.
The 19-year-old James, meanwhile, who only turned professional early last month, once again beat American Lashawn Merritt as he did in Daegu.
Both runners entered the stretch almost even but Merritt was no match for James who accelerated over the final metres to reach the tape almost unchallenged.
"I ran a perfect race. The conditions were better than in Daegu and that's why I was able to better my personal best. It has been a great season," said the reigning World Junior and World Youth champion.
Merritt was timed at 44.67 while Jamaican Jermaine Gonzales was third in 45.39 seconds.
Grenadian Rondell Bartholomew finished fourth in 45.43 seconds with Bahamian Chris Brown fifth in 45.47 seconds.
Jamaican Kaliese Spencer was the only Caribbean woman to reach winners' row as she snatched the women's 400 metres hurdles in 53.36 seconds.
Former World champion Melaine Walker of Jamaica was second in 53.43.
Around the Web