The Guyana Cricket Board (GCB) plans to host two Twenty/20 matches between the women's West Indies and Pakistan teams at the Providence stadium tomorrow and on Sunday, despite continuing controversy over the recent GCB elections.
Newly elected president of the GCB Ramsey Ali said measures are in place to host the matches successfully. He was speaking at a press conference held at the GCB's head office. The matches are open to the public and are free of cost. Spectators will be viewing them from the green stand unless there is a large turnout. The matches will start at 6 pm.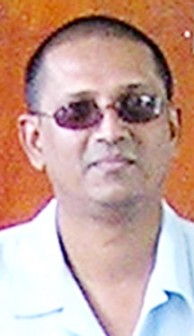 However, with the Interim Management Committee (IMC) on the brink of being formed by the government, due to the dilemma surrounding the elections of the current GCB president, Stabroek Sport asked Ali whether he thinks that the formation of the IMC can lead to the matches being pulled from Guyana.
"Well the Guyana Cricket Board is functioning as a Board and we are in control of this tournament," he said. Ali did not reveal any plans for the future of cricket in Guyana saying government had asked him to keep mum on the issue.
"As I said to some reporters yesterday (Wednesday) we met with the minister and there are a series of proposals on the table, the minister has asked us not to speak to the press and let media releases come from the minister's office and I want to respect that," he said.
With the West Indies women dominating their Pakistani counterparts during Pakistan's tour of the Caribbean, the Caribbean women will look to end the series on a high note with victories in both T/20 match-ups. In response to this newspaper's question about his expectations of the local team, Ali said, "I'm very pleased that the West Indies Board has allowed us the opportunity to have these matches…specifically in Guyana. Women's cricket in Guyana is starting to take some small steps forward, this could only boost that because we at the Guyana Cricket Board have some very significant and strong efforts are going to be made very shortly to improve the level of cricket here in Guyana especially in the under-19 and the senior level, so this can only add to our plans of enhancing cricket in Guyana."
Stabroek Sport also asked Ali to give his views on how the current divide in the Demerara Cricket Board and the issues challenging the GCB are affecting plans to advance cricket.
In response, he said, "We have had discussions with the government but as we speak cricket has to continue but the GCB is functioning and the minister recognizes this."
In addition to the two international T/20 matches stated above, two under-19 T/20 matches between Trinidad and Tobago and Guyana will be held at the same venue from 1pm.
Around the Web