Seventy orphans living at the Kamal Children Home and the Canaan Orphanage in Port Mourant on Friday last received warm lunches and drinks, compliments of the young cricketers of the third annual BCB/Scotia Bank Cricket Academy.
The young cricketers drawn from across the Ancient County pooled their individual contributions to a charity fund established by the Special Events Committee of the Berbice Cricket Board (BCB) and the funds raised were used to purchase the lunches for the orphans.
BCB Head Coach Julian Moore in handing over the lunches to the orphans hailed the young cricketers for their contribution towards making the children feel happy for the day.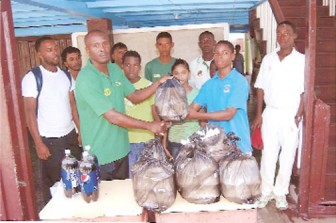 Moore said that one of the aims of the academy was to get the young cricketers to understand their status as role models adding that they are being taught to learn the value of assisting others who are less fortunate than themselves.
Chairman of the BCB Special Events Committee Hilbert Foster, who spearheaded the project, stated that a suggestion was made to the academy members and they readily agreed to visit the orphanages to provide the warm meals.
The total cost of the project was $25,000 and Foster urged the young cricketers to continue serving others.  Foster said he wants every cricketer to be a rounded individual and a positive agent for change.
The administrators and children of both orphanages expressed gratitude to the students of the academy and congratulated them on displaying compassion at a young age.
Around the Web