By Emmerson Campbell
"Bigger things are in store," Damien Marks assured following his first place finish in the 18 to 34 novices category at the 2011 Pan Caribbean Martial Arts tournament held in Trinidad and Tobago last month.
Marks defeated his respective opponents in the quarter-finals and semi-finals easily before  totally dominating the finals with four hits to none, enabling him to capture the championship belt.
But, he said confidently yesterday that his performance was just the tip of the iceberg.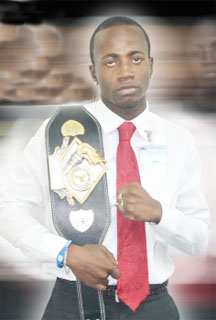 The 20-year-old, who only started martial arts two years ago after being encouraged by a high school classmate, has already made major strides in the sport of karate.
In the Harpy Eagles Karate tournament held earlier this year, Marks secured a second and a third place finish in his two matches at the finals.
At the Pan Caribbean tournament, Marks and his teammates competed against Barbados, St Lucia, USA, Grenada and host Trinidad. The team secured several championship belts which included three Observation Black Belts and five Hall of Fame Black Belts. In addition to the titles, the team captured five silver and two bronze medals.
Marks, along with his teammates from the Black Hawks Martial Arts Network under the tutelage of senior instructor Garfield Newton, is now eligible to compete in the World Championships scheduled to be held in Canada from November 16 to 17.
The championships in Canada will be a tougher assignment for Marks as he will be facing more seasoned and experienced competitors from all around the world.
Martial arts powerhouses Japan, Korea, China, Russia and host Canada will all have representatives at the championships.
Marks, a GiftLand Office Max employee, who trains at the National Gymnasium on Mondays, Wednesdays, and Fridays said that he will be increasing his training intensity and days as the tournament nears.
Around the Web