Guyana Beverage Company (GBC) renewed its sponsorship of the Fruta Conquerors Football Club for the 10th year with offerings of $1.5M in cash and gear Friday at the company's head office at Diamond, East Bank Demerara.
Managing Director of GBC, Robert Selman promised executives of the club that "as long as he is around the company will continue to support the club," especially since it has marketed the Fruta brand with pride for the past decade. It was noted at the small ceremony that the two organisations first came together when the company donated two balls to the club and "today it is $1.5M". A cheque for $500,000 was handed over to the club as stipend for the coaches while $1M in gear was distributed for players of all age categories.
Selman reflected on when the club was the number one in Guyana but now they're  not "they still have never let down the brand.""They have always been disciplined and that is important. So we thank Fruta Conquerors for their effort that they have put behind the brand to make it the number one selling juice in Guyana. I wouldn't say they're the number one at this time but they will be the number one club because they have the number one brand behind them," Selman said.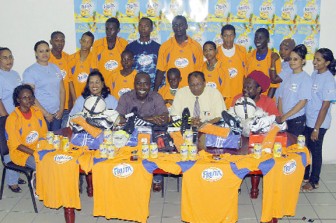 President of Fruta Conquerors Marlan Cole lauded the company for their continued support, adding that the club will continue its perseverance on and off the field.
Cole reminded that the club is always trying to push the development of the sport, especially at this time where much football is not being played in Georgetown.
He said that they are currently hosting the Milo Under-23 tournament and shortly the Chubby Under-13 and Namilco tournaments will be run off.
Cole  disclosed  that the club is also looking to improve the literacy level of players and young children in the Tucville area with a remedial academic programme on Wednesdays.  They are seeking the help of UNICEF and Food For the Poor in this regard.  Cole said it is not all about football but it is also about changing lives through other meaningful activities.
He referred to national players Vurlon Mills and Walter Moore as positive examples of the club's success.
Around the Web