Reuters) – World heavyweight champion Vitali Klitschko retained his WBC title on Saturday with a technical knockout of Polish challenger Tomasz Adamek in the 10th round in Wroclaw.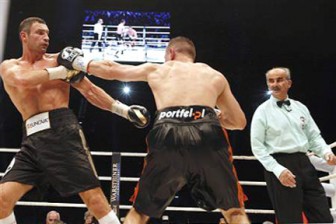 Klitschko won all 10 rounds to leave Adamek's face a patchwork of bruises before the fight was stopped with the Pole tottering unsteadily on his feet at the newly built sports stadium for the Euro 2012 soccer finals.
"I've been controlling the situation from the beginning, I knew it was going to end like this sooner or later. It's good that it ended that way," Klitschko said after the bout.
Klitschko's coach has said he would only fight two or three more times before retiring.
Klitschko's younger brother Vladimir holds the WBA, WBO, IBF and IBO world heavyweight titles after beating Briton David Haye in July. "I wanted to win, like every brave boxer. I was worse, I must acknowledge the rival's superiority," Adamek said.
Around the Web