By Emmerson Campbell
Albert Philander yesterday upset a strong field of cyclists to win the senior category of the Victor Macedo Memorial road race while junior cyclist Paul DeNobrega successfully defended his title.
The ninth annual memorial race, commenced and concluded outside of the Ocean View International Hotel yesterday and attracted the cream of Guyana's top cyclists in four categories, seniors, females, veterans and juniors.
The seniors rode to the Abary Bridge and returned (120 km) while the females and veterans journeyed to Mahaica Old Road and returned via the New Road   (72km).
The juniors rode to the Half Way Tree, Mahaicony before returning to Ocean View for the finish (88 km).
Philander's winning time was two hours, 58 minutes and 49 seconds.
The race began at a blistering pace with Geron Williams, Enzo Matthews, Robin Persaud, Lear Nunes, Mark Lewis, Alonzo Greaves and Philander creating a lead pack a little past the University of Guyana road.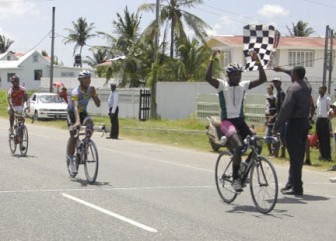 That pack journeyed together until Williams sprung a surprise attack at Mahaica Old Road.
He was, however, pursued by Philander and Persaud.
The three would open up a lead of some 200 metres and were together up until 20 metres from the finish line when Philander began to sprint and eventually edged out Williams and Persaud the second and third place finishers respectively.
Greaves, who copped two prime prizes, finished in fourth place while Marlon 'Fishy' Williams was fifth and Rastaff Oselmo, sixth.
Lewis and Philander received two prime prizes each while Williams won three and Persaud one.
Along with successfully defending last year's junior title in a time of two hours, 21 minutes and 18 seconds, DeNobrega also earned himself three prime prizes.
Second and third place finishers, Michael Anthony and Raynauth Jeffrey received three and two prime prizes respectively while Neil Reece and Raul Leal also received one each.
On the distaff side, Naomi Singh sped away with all six prime prizes on her way to a victory over Marica Dick.
Her winning time was one hour, 54 minutes and 33 seconds.
Ian 'Dumb Boy' Jackson won the veterans' race and three prime prizes in a time of one hour 52 minutes and 53 seconds ahead of Kennard Lovell and Virgil Jones. Lovell received two prime prizes while Jones received one. President of the Guyana Cycling Federation, Cheryl Thompson, speaking at the prize giving ceremony, thanked the officials and all the riders for their participation and discipline. She also wished members of the national team departing for Jamaica to participate in the Caribbean Elite Champion-ships from September 17 to 18 the best of luck. Thompson added that the 10th edition of the memorial race will be bigger and better.
Gina Macedo, who spoke on behalf of the Macedo family, extended congratulatory words to the riders for their efforts and the GCF for organizing the event.
The five males and two females who are slated to compete in the championships in Jamaica are Alonzo Greaves, Enzo Matthews, Geron Williams, Robin Persaud,  Warren '40' McKay, Naomi Singh and Hazina Bharrat.
Around the Web