By Emmerson Campbell
Guyana's current national road race champion Walter Grant Stewart, whose right arm is amputated, and members of the Guyana Cycling Federation (GCF) met last Friday at the Guyana Olympic Association (GOA) building on Main Street to deal with the issue of his non-eligibility to compete overseas with non-disabled cyclists.
Under the International Cycling Union (UCI) rules, a cyclist like Stewart who is differently-abled should not compete with non-disabled cyclists but with other paralympic cyclists.
Members of the GCF explained that while they permit Stewart to compete with normal athletes regardless of his disability, when he goes overseas the situation is out of their hands and he has to comply with the UCI rules.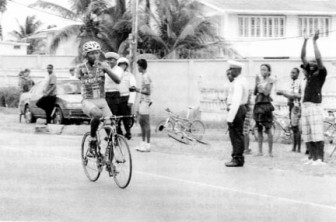 Paralympic cycling competition is open to male and female athletes with physical disabilities such as amputation/limb loss, blindness/visual impairment, spinal cord injury/wheelchair-users and cerebral palsy/brain injury/stroke.
Olympic style games for athletes with a disability were organized for the first time in Rome in 1960, now called Paralympics. The British city of London will host the next Paralympic Games in 2012.
Stewart, on the other hand, contends that there was not an issue before he became the national champion. In his view the issue surfaced because of his success over the past months.
Stewart became the national road race champion in June.
Earlier in the year, Stewart was invited to compete in a road race in Anguilla where he pedaled away with the top prize.  According to reports, Stewart subsequently went to neighbouring St Maarten to race as well, but upon his return he never informed his club, Continental Cycle Club,  about his performances or his whereabouts.
Some members of his club concluded that following Stewart's string of success he might have gotten 'too big' for the club as he started to go against protocol.
It was alleged also that Stewart started telling persons his license was taken away when in fact he handed it to the club on his own.
A team without Stewart was picked to represent Guyana at the Bigi Bergi Four Stage Road Race in Suriname last month.
Stewart felt discriminated against because he thought that as the national champion, he should have been an automatic member of the team. Subsequently Stewart went on his own with the intention of participating with another team, the Miami-based Team Coco's.
Unfortunately, Stewart was not permitted to ride because there was a protest by members of another competing team. Stewart claimed that the team from Guyana was being spiteful by doing all they  could to prevent him from racing since he was not going to represent them.
When the team members and Stewart returned to Guyana from Suriname more serious allegations were made and the situation reached a boiling point and a disciplinary meeting was held to clear the air.
At the meeting the issues were discussed and clarified while Stewart apologized for his actions. He has also expressed the hope that the relationship between himself and members of the federation would become cordial again and he could receive a racing licence.
It is understood that Stewart will be receiving an unattached licence today.
Around the Web