The Guyana Cricket Board (GCB)/EL Dorado Inter-County limited overs cricket competition was launched yesterday at a press conference at the GCB head office, Regent Street.
Current head of the GCB, Ramsey Ali, disclosed his gratitude to the sponsors for their continued sponsorship of the Inter-County competition.
The competition is now in its 20th year and Ali  stated that over the years  the tournament has been  used as the basis to select the national side for regional limited overs competitions.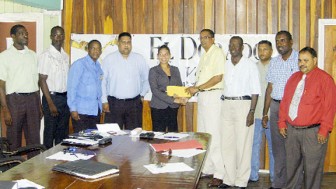 This year, he said, will be no different as the Guyana squad will be selected for next month's WICB regional senior one-day Super Cup cricket tournament to be held in Guyana from October 19- 31.
It was also disclosed that the final of the competition will be played at the Albion Community Center ground, Berbice with the aim of the GCB to promote cricket in different areas of the country.
El Dorado, brand manger, Maria Munroe echoed the aforementioned statement by Ali, while stating they are pleased to be on board with the GCB for another year.
She wished all the players well and encouraged cricket fans to support the respective county teams.
The tournament bowls off on Friday with two (2) matches; Essequibo against Demerara at the Demerara Cricket Club (DCC) ground and Berbice taking on the President's XI at Blairmont Community Centre Ground .
Round two of the tournament will see Berbice and Demerara clashing at GCC and Essequibo doing battle with the President's XI at Everest.
The third and final round of the tournament will see Essequibo tackling Berbice and Demerara facing the Rest Team at Everest, before the final on September 25th.
Essequibo squad: Ronsford Beaton ( capt), Yougeshwar Lall ( v/ c), Herrel Green, Tryon Narine, Tulsieram Premnauth, Kevin Gorden, Jason Heyliger, Kevon Boodie, Norman Fredericks, Royan Fredericks, Anthony Adams, Ricardo Adams, Herry Green, Rovindra Parsram, Aotto Christiani ( coach), Vibert Johnson ( manager) Stand- bys – Eon Gonsalves, Kenzo Baksh, Vijay Surujpaul.
Demerara squad: Shemroy Barrington, Trevon Griffith, Leon Johnson, Gajanand Singh, Vishaul Singh, Robin Bacchus, Zaheer Mohamed, Amir Khan, Joseph Perry, Paul Wintz, Kellon Charmichael, Andre Stoll, Totaram Bishun, Elton Baker. Stand- bys – Kevin Ogle, Jamal Hickson, Troy Gonsalves, and Shawn De Souza.
Berbice squad: Royston Crandon, Assad Fudadin, Richard Ramdeen, Narsingh Deonarine, Devon Clements, Rajiv Ivan, Anthony Bramble, Jonathan Foo, Steven Latcha, Krisendat Ramoo, Keon Joseph, Michael Newland, Shawn Perriera, Eugene La Fleur.
The President's XI is expected to comprise players from the three counties who did make the respective final 14-man squads.
All selectees are asked to contact the GCB office on 227- 7130, DCB Vice President Alfred Mentore on 623- 0235, or GCB Chairman of Senior Selectors, Rayon Griffith, on 610- 3292 for further information regarding practice sessions.
Around the Web