By Iva Wharton
Guyanese track and field athletes are nowhere near ready to compete on the international arena, says Stephon Josiah, a University of Guyana student-athlete who recently returned from the Universiad track meet in China.
Josiah based his statement on his experience at the recent Universaid (World University Athletics Organisation) track meet in China last month.
Universiad brings together hundreds of track and field athletes every two years to compete at its championship meet.
Josiah was there to compete in three events: long jump, 1,500 and 3,000 metres.  However, because of an old injury, he was only able to compete in a practice run and two heats.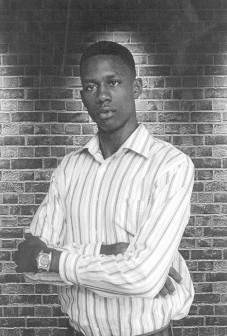 "The thing that struck me the most is the level of competitiveness at which Universiad is at," Josiah noted, adding that the kind of training he puts in locally does not prepare him for a championship of that level.
"Those athletes that were there are students in universities with full sports programmes. Their main focus is on athletics, far more than what the University of Guyana allows."
Josiah said it was at the championship he learnt that his best time in the 1,500 meters was below the qualifying time accepted by Universiad. He clocked a best of 15 minutes and 59 seconds while for Universiad it was 15 minutes.
Josiah said he has competed in the University of Guyana track and field championship and does not feel that there is enough competitiveness among the students.
"The rivalry is not there, so you don't find students doing a lot of practice for university sports which is required. If the students anticipate the rivalry more it would help the performance of students who are going to Universiad."
Things, he said, can be different at the university when it comes to athletics, but it has to start with the students.
Josiah who is twenty-four years old today is also an avid cricketer. He became involved in both athletics and cricket at young age while living in Wakenaam.
A member of the Running Braves Athletics Club, Josiah said, however, he has decided that he would not make athletics a career because of the lack of opportunities available locally.
However, his sentiments are different for cricket. He said that while there are no financial rewards as yet, should he make the national or the Combined Campuses and Colleges teams, he stands a chance of reaping some financial rewards.
According to him, he has stuck with athletics because it helps him keep fit for cricket. He is on the University of Guyana's cricket team and is also a member of his former cricket club in Wakenaam.
Josiah is currently a second year student at the University of Guyana pursuing a degree in Education, majoring in English.
A graduate of the Cyril Potter College of Education, he teaches English Language and Literature at  Brickdam Secondary.
Around the Web