The Guyana Beverage Company (GBC) has renewed its sponsorship of the Rose Hall Youth and Sports Club (RHTYSC) organized, Busta Champion-of-Champions limited overs tournament.
The company will also sponsor the East Coast Busta cricket festival Twenty20 tournament.
Secretary of the RHTYSC, Hilbert Foster, in thanking the GBC executives for their continued support of Berbice cricket, said such continued investment has be key to Berbice dominating cricket at all levels in Guyana in recent years.
"Eight years in a life of a sports club and more importantly in the life of a major cricket sponsorship is very important. In these difficult economic situations we all have to go through on a regular basis, one is left to wonder if any company would renew its sponsorship for the following year.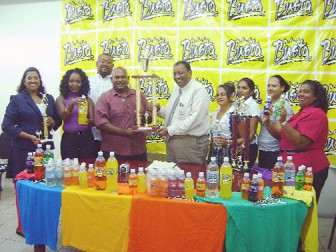 "The RHTYSC since its formation in September 1991 has been blessed to be surrounded by a dedicated group of sponsors who has stood by our side. One of them has been our friend at the Guyana Beverage Company under the dynamic leadership of Robert Selman and Shameeza Yadram," said Foster.
Managing Director of GBC, Robert Selman stated that over the years the company name has become synonymous with cricket.
"As a Trinidadian, doing business in Berbice by extension Guyana over the last 16 years, it has become evident that our sponsorship of cricket has been one of the major enabling factors in or product gaining recognition, so I on behalf of the company executives have always had zero hesitation in continuing our affiliation with cricket development in Guyana – especially this competition.
The tournament will involve eight teams – Blairmont Community Centre, Memorex Bermine, Young Warriors, Edinburgh, Skeldon, Police, RHTYSC and Port Mourant.
Organizers of the competition will provide coloured T/Shirts to the teams and balls.
They will also pay the umpires and other relevant officials.
Foster pointed out that the Busta fixtures will clash with numerous other cricket competition in the Ancient County including the Inter-County one-day tournament.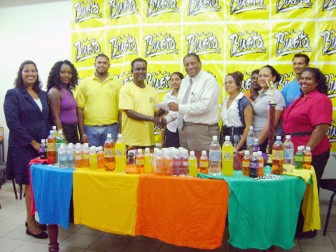 Action commences this weekend with four (4) opening round matches at venues across Berbice starting at 0930 hrs:
– Rose Hall town Gizmos and Gadgets vs. Skeldon at Area "H" Ground.
– Young Warriors vs. Edinburg at Edinburgh
– Blairmont Community Center vs. Police at Blairmont
– Port Mourant vs. Bermine at Port Mourant
Also launched was the Enterprise Busta Sports Club organized Busta cricket festival, Twenty20 knockout competition.
Treasurer of the club, Rasheed Baksh, said that the GBC came to aid on the club in 2008 when they were low on funds and their investment has enabled to club to have two (2) senior teams compete in first division cricket.
Selman said the reason behind investing in the Enterprise Club was simply due to the fact that since the company already has been sponsoring the Fruta Conquerors football club for over 10 years, they felt compelled to do the same for a cricket team.
In this competition six (6) teams will be involved including Lusignan, the defending champions, Enmore, Farm Field, LBI, Buxton and Enterprise.
Around the Web