Coach of Guyana's national squad of junior tennis players, Shelly Daly-Ramdyhan, says she was not surprised at the recent wins by Aretta Dey and Nicola Ramdyhan at the First Citizens Investment Services 2011 International Junior Tennis Tournament in St Vincent and the Grenadines last month.
"I've always expected a lot from the kids, so even though they won and I was happy I wasn't surprised. I've always believed that they could do it," the level two ITF coach said.
"For the past few years I've been telling them that they are very much on par with the level of competition present at these tournaments," she said. "The only difference is that some of the other players may have more local tournaments and they get more exposure than our players, but I've always believed and I still believe that our players are very capable."
But Dey said that while she went in with the goal of giving her best and aiming for a win, she was somewhat surprised when she realized that she had won the title. According to Dey, her win snuck up on her, and it was not until the final moments of her final match that it begun to dawn on her that she was on her way to being a singles champion at an international event. In her first time at the tournament, Dey won Guyana's first singles medal when she played unbeaten to capture the girls 14-and-under title after defeating compatriot Nicola Ramdyhan in the final.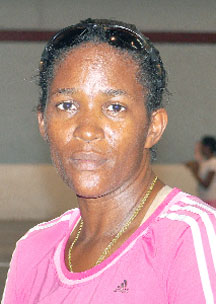 "No, I wasn't expecting to win, even up to being in the finals with Nicky. I wasn't so sure about winning against her. But then in the finals after I won the first set and I was leading in the second I realized that I was going to win this," the 14-year-old Form Three student said.
The tournament started in August and in the weekend before Dey took part in the qualifying round, where she blazed through the round robin qualifiers winning all three of her matches.
Before her singles win, Dey teamed up with Nicola Ramdyhan to rule the doubles division of the girls 14-and-under competition. Dey and Nicola Ramdyhan were a part of the Guyanese team of nine players who participated at the tournament, accompanied by coach Shelly Daly-Ramdyhan.
Apart from Dey and Nicola, Guyana's Annessa Grandison also took part in the girls 14-and-under division, while the other players were Daniel Lopes and Judah Stephney in the boys 14-and-under category, Krystal Sukra, Shawna Gentle, and Aruna Ramrattan in the girls 18-and-under and Gavin Lewis in the boys 18-and-under category.
This was Guyana's third time participating in the tournament. At Guyana's second outing last year, all of the players, with the exception of Dey and Grandison, participated.
Assessing the players overall, Daly-Ramdyhan said there was some improvement in their performances this year.
She said Gentle showed a lot of competitiveness in her game, a fact that was also noted by other coaches who saw her play. The same was also said about Sukra.
"Shawna showed a lot of competitiveness and I was told by other coaches who had watched her, Krystal also showed some competitiveness on the court. Shawna would have been the one that had the stronger opponents; Krystal, and Aruna came up against players they know very well, and even though they didn't get far I believe they all played a good game," Daly-Ramdyhan said.
The local coach also noted the performance of Lewis, who was in the boys 18-and-under category for the first year. Lewis, she said, was well aware of the level of competition he was going to come up against but this did not daunt the St Stanislaus College student.
However, Daly-Ramdyhan conceded that there is still a lot of work to be done and hopefully Guyana will return with a lot more medals when next year's tournament rolls around.
"They are showing some improvements but to me they still need to work on the mental part of it. In some cases we have players who could have done much better but need to be more mentally focused," the coach said.
Around the Web