By Iva Wharton
The Guyana Amateur Boxing Association came under fire yesterday morning after 23 boxers did not receive breakfast on time.
The boxers, who are from gyms in Berbice, are in the city to compete at the National Intermediate Championship which started last night and concludes tomorrow at the National Gymnasium.
The boxers, some as young as 12-years-old, told Stabroek Sport at the National Gymnasium where they are encamped, that they had not eaten since Thursday night.
Al Thomas, coach of the Tiger Eye Boxing Gym, of  Canje, said he was appalled at the GABA.
Thomas said the arrangement was that the gyms would provide dinner for the boxers on Thursday while GABA would provide meals from yesterday.
Attempts, he said, to reach Terrence Poole, a GABA executive, early that morning  were futile. It was close to 10:00am that they learnt that there was some misunderstanding between GABA officials and the supplier of the meals.  Another bone of contention is that GABA has not been assisting teams financially to have boxers   brought to the city for competition.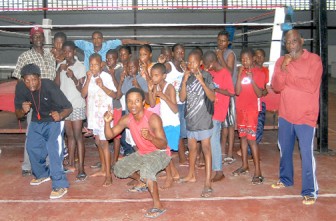 Gregory Cort of Rose Hall Jamming Boxing Gym had this to say:"We already paid fifteen thousand yesterday dollars (Thursday) to come down, then we got to pay fifteen thousand to go back. To get money to reach down here, we does got to raise funds, we does got to go to the businessmen to raise funds. What they feel like giving we, they give we. Is not like GABA does give we money to bring down these boxers. They don't even think how we getting up back."
According to him, they just receive meals and accommodation from GABA and nothing else.  GABA's president Steve Ninvalle said that he was taking full responsibility for the mix-up. He also said that the situation was remedied. Ninvalle said persons, one of whom is an executive of the board, was given the responsibility which they failed to execute. This, he said, was the first time and it would be the last that something of this nature occurs under his watch.
The boxers received breakfast close to lunch time. The 23 boxers are from four Berbice gyms: Tiger Eye, Rose Hall Jamming, Pocket Rocket and Central.
Around the Web