BRUSSELS, Belgium, CMC – Sprint sensation Usain Bolt stormed to a world-leading 9.76 seconds in the 100 metres but for the second time in three weeks, was upstaged by compatriot Yohan Blake who jetted to an astonishing 19.26 seconds to clock the second fastest 200 metres time ever at the Memorial Van Damme yesterday.
Bolt emerged from a dodgy start to get ahead after 60 metres, and lead a Jamaica one-two-three, as Nesta Carter finished second in a season-best 9.89 seconds and Commonwealth Games champion Lerone Clarke third in another season-best 10.05 seconds.
However, in the very next track event, Blake took the shine off Bolt's win by burying his competition in a mind-boggling performance.
Only last month in Daegu, South Korea, Blake crowned himself 100m World champion after Bolt was disqualified for a false start.
"I knew I could do something crazy. But to be honest I was surprised when I saw the clock at the finishing line," said the 21-year-old Blake.
"This was a perfect controlled race. I started slow, and while I'm not a good bend runner I accelerated afterwards.
"Usain stays the best runner, but after tonight I feel I'm capable of breaking the World record over 200 metres. I'm looking forward to competing with Usain next season.
"Bolt is always motivating me before the race. We call each other 'the Beast' – a real big animal that can do anything."
Running out of lane seven, Blake got away slowly from the blocks as American Walter Dix grabbed the early advantage heading through the first 100 metres and into the curve.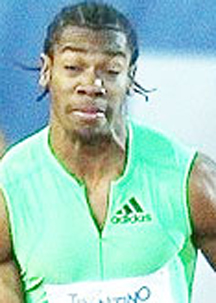 Dix, in lane six, ran the better curve but Blake accelerated beautifully in the stretch, dismissing his challengers as he streaked to the finish unmatched.
Dix was second in personal-best 19.53 seconds while Jamaican Nickel Ashmeade was third in 19.91 seconds.
Blake's time rubbed 0.14 seconds off Bolt's previous world-leading time set in Daegu earlier this month and was just 0.07 seconds off Bolt's world record Bolt set in Berlin two years ago.
Bolt, meanwhile, shook off a lazy start and a weak first 40 metres, to draw even with his field before pulling away in the final metres.
His time eclipsed fellow Jamaican Asafa Powell's previous world-leading time of 9.78 seconds, and ensured a fitting end to the Diamond League season for the World record holder.
"It was never a doubt in my mind I would run fast these last two races," Bolt said, also referring to his 9.85 seconds in Zagreb on Tuesday. "Today I was really happy with myself."
In the women's 100 metres, Trinidadian Kelly-Ann Baptiste ran a season-best 10.90 seconds to be third as World champion American Carmelita Jeter snatched victory in 10.78 seconds.
Jamaican sprint queen Veronica Campbell-Brown took second in 10.85 seconds.
Around the Web