By Iva Wharton
Guyana's netball team placed third overall in the Barbados Workers Union championship and team captain Christel Lambert says she is proud of her team's performance.
According to lambert the team did well under the circumstances.
One of the players, Donette Boston, received an award for being the best wing defense player. Boston is a member of the New Opportunity Corps team.
"The tour was more of a learning experience for the girls, because in Guyana, netball is not much played. The experience and the exposure they gained is at a different level, you do not get that back home," Lambert said.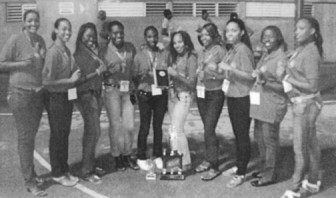 Lambert said while the team did not perform too badly there is still a lot more work to be done. According to her the players need to master the fundamentals of the sport and also be a bit more focussed.
Player/coach Angeline Dyer–McCarthy said the team needs more international exposure if there is going to be any improvement.
"On the officiating part, we need to step up in that aspect also.
Better officials make better players and we are lacking in those two areas; exposure and better officiating. So I think once we get those two going our game will improve along with some sponsorship from government and private entities."
Guyana played four matches. The competition which started last Sunday ended yesterday.
Around the Web