Beverage giant Ansa Mcal is scheduled to bounce off a three on three basketball tournament dubbed the Mackeson Smooth Moves championships on October 2 at the Linden Basketball Hardcourt.
The tournament which was launched yesterday at the Cliff Anderson Sports Hall is the first of its kind in Guyana and will be played countrywide. Speaking at the launching, Marketing Director of Ansa Mcal, Troy Cadogan, said that it is an epic day for basketball in Guyana.
Cadogan noted that the  three on three format of the game will bring  renewed excitement to basketball fans and players.
Cadogan compared the International Basketball Federation (FIBA) endorsed three on three tournament  to cricket's T/2O and football's Futsal.
Cadogan emphasized that the championships will be a lucrative one as the winning team will earn a trip to the 2012 NBA's All Star weekend in Orlando, Florida or a trade in value of one million dollars. Second and third place teams will receive $300,000 and $200,000 respectively.
Ansa Mcal hopes to attract an excess of 500 teams. Teams will represent four zones, Linden, Georgetown, Berbice and East Coast, with each zone winner earning a cash prize. Gifts and prizes will also be given away to lucky patrons at half time of each game.
The sudden death or win or go home championships will have three players per team with one substitute, four fouls per player and five fouls per team. The 15 minute game will feature two seven and a half minutes halves with no timeouts but there will be a one-minute break at half time. The players must be 18 years or older and be residents of Guyana. Players will register using entry forms found in the newspapers, posters, and flyers and they must put  them into entry boxes at participating bars and supermarkets or call 220-0505.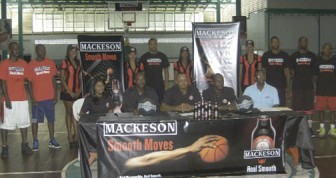 To register on game day each team must provide six Mackeson crowns to play.
Games will be played on the Burnham Basketball Court, Linden Basketball Court and other basketball courts in Berbice, Albouystown, Sophia, Buxton, and other places. The venue for the finals will be published in a subsequent report. At the launching also was  President of Guyana Amateur Basketball Association (GABA), David Patterson, who lauded the Ansa Mcal group of companies for sponsoring the championships.
Patterson pointed out that FIBA is attempting to make the three on three format a new flagship for players, and that a rule book is being processed. Patterson further noted that the three on threes are very popular on every basketball court around the world.
He added that the championships would be beneficial in spotting new talent from around country.
The GABA president wished the inaugural championships every success as he hopes it can be an annual event.
President of the Guyana Basketball Officials Council, Cecil Chin, thanked Ansa Mcal for bringing off the championships and he assured that his officials will be up to the task of making each game a fair battle. Chin further mentioned that the council will be hosting a workshop next weekend to get officials more familiar with rules of three on three basketball games. Rawle Toney, Vice President of Linden Amateur Basketball Association, LABA, said that he is grateful to  Ansa Mcal for launching the tournament as the sport is currently at a standstill and needed a shot in the arm. Toney stressed that the sport needs to be reintegrated into communities countrywide.
LABA's vice-president further said that he looks forward to the championships and envisions a team from the mining town winning the top prize.
Admission is free for every game, and games played on Wednesdays and Saturdays will bounce off at 18:00 hrs and 15:00 hrs respectively, while games played on Sundays will begin at 11 hrs.
Around the Web