Demerara completed a polished 58-run victory over  Essequibo in their replayed opening fixture of the 2011 El Dorado Senior Inter-County limited overs competition, at the Georgetown Cricket Club (GCC), Ground, Bourda, yesterday.
The victory for the local county side was orchestrated on the back of a well-compiled half-century from skipper Leon Johnson who scored 67 and a five-wicket haul from former Guyana Under-19 off-spinner Zaheer Mohammed who took 5-28.
The day's proceeding begun with the Demerara side, decked out in their traditional blue outfit, winning the toss and electing to take first strike on a dry looking Bourda deck.
Openers Shemroy Barrington and Trevon Griffith who were cautios in the initial five overs when they scored just eight runs, exploded in the next 10 overs,  upping the scoring rate as Demerara reached 86 without loss by the 15th over.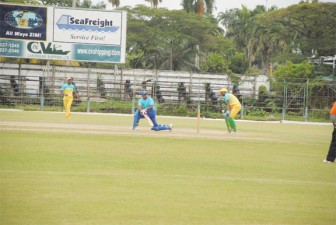 However, Essequibo staged a mini fight-back snatching three quick wickets without any addition to the score, with left-arm spinner and recent Guyana Under-19 representative Anthony Adams claiming two scalps. Both openers were dismissed within two overs of each other.
The left-handed Trevon Griffith was caught behind for 36, Shemroy Barrington fell for (38) and the big wicket, that of Gajanand Singh, was grabbed by Essequibo with Singh falling for  a duck.
Johnson then joined his GCC colleague Vishaul Singh and the duo went about repairing the innings with a solid – rather than brisk – 77-run fourth wicket partnership in 18 overs. Johnson signaled for the implementation of the batting power-play from overs 36-41, with the clear purpose of increasing the innings momentum, but Singh was out leg-before wicket to  Norwayne Fredericks for 32, with the total on 163. With the power-play overs wasted, Essequibo's bowlers did a good job of keeping runs in check for the remaining 14 overs.
They also claimed four wickets including the prized one of Johnson for 67 in the 45th over with the score on 214.
Adams (3-47) and skipper Ronsford Beaton (2-48) had the best figures for Essequibo as Demerara ended on  234 for 8 off the allotted 50 overs.
Essequibo, in pursuit of that target, got off to a solid start thanks to a 50-run opening partnership between the left-handed Norman Fredericks and 2011 Guyana Under-19 opener Kevon Boodie.
Boodie was the aggressor and took  toll of the expensive left-arm pacer Andre Stoll, taking three boundaries in his second over.
His cameo ended when, in attempting to blast a delivery from medium pacer Paul Wintz through the covers for his seventh boundary, he managed to feather a thick edge through to wicket-keeper Joseph Perry.
His  promising 29  came from 25 balls and he shit six fours.
The wickets of Yougeshwar Lall (5), run out in school-boy fashion due to a horrible lack of communication between himself and Fredericks and Heyliger, stumped for a golden duck – saw Essequibo slip to 61 for 3.
When Norwayne joined his brother Norman, they posted a quick-fire 47-run, fourth-wicket partnership in eight overs, as the Fredericks duo that hinted at a possible recovery for Essequibo. But when both were dismissed in the space of two balls, firstly Norman for 52 (64 balls, 6×4) and Norwayne for (16) with the score on 108 – the chase capitulated.
A stubborn 32-run, last-wicket partnership between Anthony Adams (8 not out) and Kevin Gordon (22) delayed the inevitable – but Mohammed wrapped things up by trapping Gordon leg-before wicket  to claim his fifth wicket and the victory for Demerara.
The competition continues today when the President's X1 face-off with Essequibo at Demerara Cricket Club (DCC) ground and the big rivalry clash between Demerara and Berbice at Everest.
SCOREBOARD
Demerara innings
T. Griffith c wk H. Green b A. Adams              36
S. Barrington c K. Gorden b Y. Lall                 38
L. Johnson c J. Heyliger b R. Beaton             67
G. Singh c wk H. Green b A. Adams                  0
V. Singh lbw b R. Fredericks                             32
Z. Mohamed c&b A. Adams                               14
P. Wintz c R. Adams b R. Beaton                        3
J. Perry not out                                                       11
A. Stoll run out (R. Fredericks)                          0
K. Carmichael not out                                            8
Extras: (2-b, 3-lb, 1-nb, 17-w)                         23
Total: (8 wickets 50 overs)                             234
FOW: 1-86, 2-86, 3-86, 4-163, 5-195, 6-208, 7-214, 8-216
Bowlers: R. Beaton 10-0-48-2 (9-w), K. Gorden 5-0-30-0 (2-w), N. Fredericks 2-0-14-0 (1-w, 1-nb), J. Heyliger 12-1-45-0 (1-w), A. Adams 12-2-47-3 (2-w), Y. Lall 6-1-16-1, R. Fredericks 5-0-29-1 (2-w)
Essequibo innings
N. Fredericks c Z. Mohamed b P. Wintz                52
K. Boodie c wk J. Perry b Wintz                                29
Y. Lall run out (Mohamed)                                           5
J. Heyliger st wk J. Perry b Z. Mohamed                0
R. Fredericks c S. Barrington b K. Carmichael     16
H. Green lbw  b Z. Mohamed                                        14
R. Parsram lbw b Z. Mohamed                                      8
R. Adams b Z. Mohamed                                                10
R. Beaton c&b A. Khan                                                     3
A. Adams not out                                                               8
K. Gordon Lbw b Mohammed                                     22
Extras: (7-w, 1-nb, 1-lb)                                                  9
Total: (all out 42 overs)                                            176
FOW: 1-50, 2-61, 3-61, 4-108, 5-108, 6-124, 7-139, 8-144, 9-144, 10-176
Bowlers: P. Wintz 9-3-39-2 (1-w, 1-nb), A. Stoll 5-0-42-0 (5-w), K. Carmichael 6-0-30-1, Z. Mohamed 11-2-28-5 (1-w), A. Khan 10-1-36-1
Around the Web