It was a rare occasion for West Indies cricket to be jubilant.
Amidst the glitz of the globally televised annual International Cricket Council (ICC) awards ceremony at the Grosvenor Hotel in London and in the presence of greats present and past, Devendra Bishoo was named as the Emerging Player of the Year and Stephanie Taylor the Women's Cricketer of the Year.
At the same time, Curtly Ambrose, was the latest West Indian to be inducted to the ICC's Hall of Fame, receiving his honour with a trademark smile as wide as Antigua itself and a previously concealed sharp sense of humour.
That he is likely to be the last West Indian for some time yet to enter that elite company was a chastening reality.
For different reasons, the choices of Bishoo and Taylor would not have registered especially highly on the international game's Richter scale.
But both are highly significant for the West Indies, Bishoo as an example to others of his vintage seeking to make their way in difficult times, Taylor as a fillip for the women's game that is only beginning to establish itself in these parts.
As the term "emerging" indicates, Bishoo, 25, is a fledgling with a mere five Tests and 11 ODIs to his name. Yet he is the first leg-spinner to earn that ICC accolade. It is a special skill only few even master – or, more to the point for West Indians, are given the chance to master.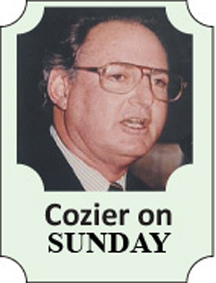 In its context, Taylor's was a momentous achievement, the best women's cricketer anywhere on the planet in a still developing team.
The other three nominees were celebrated players from nations with long history in the women's game – Charlotte Edwards of England, Lydia Greenaway and last year's winner Shelley Nitschke of Australia.
Among West Indian men only Shivnarine Chanderpaul won the equivalent honour in 2006.
Of the women's players I have watched – admittedly confined to the World T20 championships in England in 2010 and in the Caribbean last year – only another Taylor, Claire, of England, now retired – bats with the same style and technical perfection.
Not yet 21, the future of women's cricket in the West Indies and Stephanie Taylor are clearly intertwined. Bishoo's prospects, on the other hand, depend very much on how he is handled by his captains and on how much, or how little, confidence the selectors have in wrist-spinners.  Only a few of his type have ever won West Indies places. None has played more Tests (24) or taken more wickets (51) than David Holford. It is no wonder there are so few. Rajindra Dhanraj had four Tests in four different countries. Rawl Lewis went 10 years between Tests. Such handling can break the spirit of any cricketer.
It would test Bishoo as well but, in his brief time, the diminutive Guyanese has shown himself to be a feisty character, always up for the challenge.
It was the basis on which he was picked. His regional record was no more impressive than the Jamaican Odean Brown's but Bishoo got the nod from Clyde Butts and his panel as replacement for Dwayne Bravo midway through the World Cup in India in March.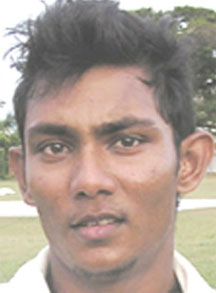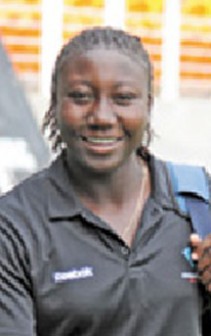 A change of leg-spinner for batting all-rounder seemed illogical before Bishoo made his debut for the must-win match against England in Channai.
Darren Sammy tossed him the ball as England were galloping along at six runs an over with two wickets down. Not only did he check the rate but dismissed the rampaging Jonathan Trott in his fourth over, Ian Bell in his sixth and Luke Wright in a later spell. His figures were 10-0-34-3.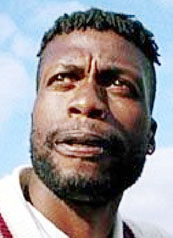 He has played every match but two (both ODIs) since but faces a couple of obvious challenges, both of which have already manifested themselves.
One is that the West Indies weak batting doesn't offer him the cushion of runs all bowlers of his type require (the relevant Test totals are 226, 152 and 223 against Pakistan , 173, 190 and 204 against India ).
The other is that, in a numerically reduced attack of four,  he is always in danger of being overused, employed principally in a defensive stock role when the pitch is flat and the batsmen are set.
It was the case against Pakistan in the St.Kitts Test when he trundled 70.5 overs overall and against India in Dominica where Ravi Rampaul's illness meant he had to fill in with 38 overs in the first innings.
For all that, Bishoo and Taylor were shining lights for the West Indies at the ICC awards, a couple of reasons to rejoice
Unfortunately, we know, from past and, not least, present experience that this flame, like so many before it, will quickly flicker and be consumed by the upheavals that are always close at hand.
Even as Bishoo and Taylor were being recognised in London, several CARICOM governments had shown themselves keener than ever to have their say in how West Indies cricket should be run, ignoring the recent International Cricket Council (ICC) forewarning to its members to eradicate political involvement in their affairs by next year.
The president of Guyana Bharat Jagdeo has openly proclaimed his loathing of the West Indies Cricket Board (WICB), calling it a "disgrace" yet remains on the CARICOM sub-committee that stated last week it would "engage" the said WICB and the West Indies Players Association (WIPA) to help determine how they see the future.
Turning his attention to home territory, Jagdeo has also intervened to settle the disputes that have undermined the Guyana Cricket Board (GCB). The formation of an Interim Management Committee (IMC) was the upshot.
In Trinidad and Tobago, sports minister Anil Roberts called for the resignation of Trinidad and Cricket Board (TTCB) president Azim Bassarath with whom he has been engaged in a fiery war of words.
All the while, the issue of former captain Chris Gayle's omission from the team continues to simmer and the WICB faces a US$20 million from the WIPA claiming restraint of trade on his behalf and those it deems similarly affected.
Nothing changes – or is likely to.
Around the Web