BRIDGETOWN, Barbados, CMC – All-rounder Dwayne Smith says the two Twenty20s against England later this month has handed his flagging career a much needed lifeline.
The 28-year-old was axed following the first One-Day International against Zimbabwe last year March and has been kept in the wilderness by selectors for the last 18 months.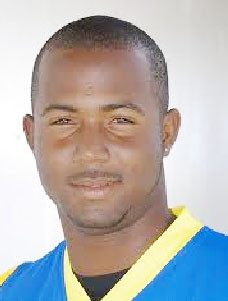 Surprisingly chosen in the West Indies 14-man squad for the England trip, the hard-hitting batsman and nippy seamer now believes the reprieve can be the beginning of something new.
"I'm very excited to be back in West Indies cricket. This is a very exciting time in West Indies cricket and I'm really happy to be selected for this tour," the Barbadian said.
"Any opportunity to represent West Indies is a big opportunity. I was out for a while and I see this as a golden opportunity to make a comeback. I am going to bring intensity and energy to the team and look to give all I have in me.
"I see this as a chance to re-start my international career. As I was training and working on my game I kept telling myself I just need one sniff and I'll take it. This is my big chance and I have to make sure I take it."
Smith, who marked his entrance in the international arena with a century on Test debut against South Africa seven years ago, has transformed into a one-day and T20 cricket over the years but has been heavily criticized for his rash stroke-play and inconsistency.
It was this rashness that is believed to have led to his axing last year, when he was bowled attempting a big hit with West Indies needing four runs to win off the last three balls of the innings against Zimbabwe. The hosts lost by two runs.
Smith said he had made several changes to his game, however, also noting that stints in the English County game had also taught him more responsibility.
"I worked a lot on my game and learned a lot. I worked very hard on my batting and I realised I have to be more patient and aim to hit straighter … this new way of thinking has been working for me," said Smith, who has played just 77 ODIs and eight T20Is.
"I just want to continue. The coaches have asked for commitment and I intend to put in the work required to reap success at the international level."
He added: "I was at Sussex for three seasons, playing a lot of T20 cricket and I have good knowledge what to expect and what is expected of me. I can add a lot to the team in terms of my knowledge of the conditions.
"I actually got the chance to play at the Oval a few times so I am familiar with the conditions and I will be able to share that information with the other guys in the West Indies team."
West Indies face England in T20s on September 23 and 25 at the Oval in London.
Around the Web